Hazardous Materials Storage and Handling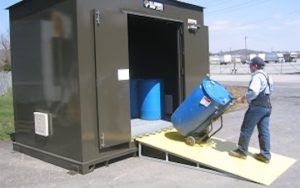 A hazmat storage locker is recommended to use when storing 55-gallon chemical drums and other hazmat. Storing chemical drums requires standard processes to ensure safety and avoid hazards. Most industrial plants store chemical drums to contain a range of different chemicals used in production processes. Chemicals are essential to many businesses, whether they are used for manufacturing products or cleaning equipment. Although chemicals are mandatory in many industries, the hazardous nature of many chemicals must be addressed before chemicals can be handled or stored onsite. Understanding the risks of storing chemical drums and having the ability to take steps to minimize those risks is essential to helping work-environments stay safe. Hazmat storage locker features include racks, shelving, fire suppression and ventilation that are important to keep in mind when it comes to storing 55-gallon chemical drums safely.  Even chemicals that are benign can potentially still be hazardous in the right circumstances. 
Climate control
, proper inventory procedures and storage guidelines are critical to prevent uncontrolled chemical reactions, hazmat spills and minimize worker exposures.
Regulatory Considerations for Hazmat Storage
When storing chemical drums, institutions including the EPA, NFPA and OSHA address certain standards for hazmat storage locker compliance. According to the
EPA
, a secondary containment system must have enough capacity to contain 10% of the volume of containers or the volume of the largest container, whichever is greater. Spilled or leaked waste and accumulated precipitation must be removed in a timely manner in order to prevent overflow of the collection system. The containment system base must be sloped or designed and operated to drain and remove liquids resulting from a spill, leak or precipitation; unless containers are elevated or protected from contact with accumulated liquids. The 
NFPA 30 Flammable and Combustible Liquids Code
,
NFPA 400 Hazardous Material Code
and the
NFPA 1 Fire Code
offer a better understanding for safe handling and storage of hazmat. Property setbacks, storage of flammable materials and spacing between chemical storage lockers must all be considered when housing hazardous materials inside a hazmat storage locker. Regulatory considerations addressed by
OSHA
 include the following:
Storage of flammable liquids (29 CFR 1910.106)
Compressed gas storage (29 CFR 1910)
Communicating chemical hazards under the Laboratory Standard (29 CFR 1910.1450)
Hazard Communication Standard (29 CFR 1910.1200)
Most states address hazardous material storage through building codes which can incorporate NFPA Codes, BOCA Codes and UBC Codes. When using a hazmat storage locker, be sure to check with local officials and your local fire marshal to ensure all regulations are met.
Types of Hazmat Storage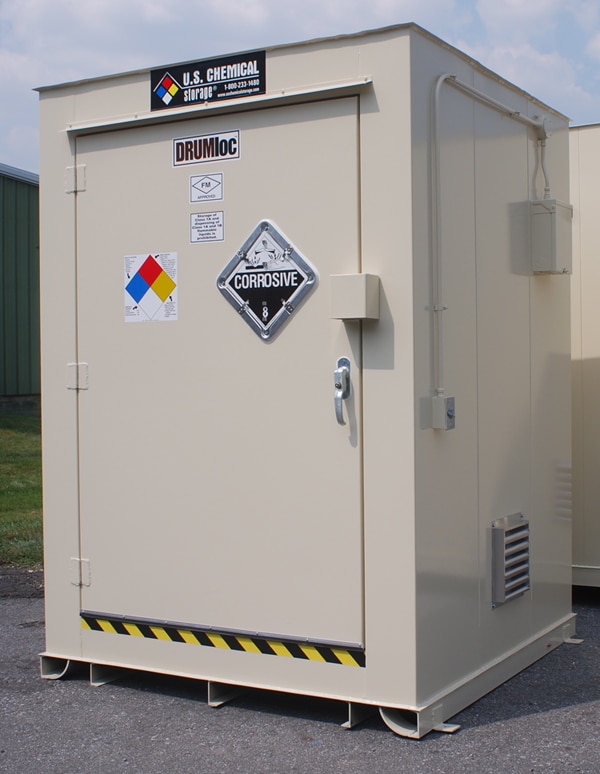 Hazardous materials vary greatly depending on industry and end user. Below is a list of chemicals commonly stored inside prefabricated hazmat storage lockers by U.S. Chemical Storage.
Customize Hazardous Materials Lockers for Inventory Best Practices
Safety should always be top of mind when storing hazardous materials in a hazmat storage locker. See below for some inventory best practices to ensure chemicals are safely stored and maintained.
Ensure all containers, drums, totes are labeled with proper signage before storing. Close containers when not in use.
Organization is important. Never store chemical drums in walkways or exit-ways, or anywhere on the floor. Use racks and shelves to keep inventory organized.
Store chemicals according to chemical class and compatibility first. For example, keep acids away from bases and oxidizers separate from organics, etc. Segregate incompatible materials in separate hazmat storage lockers or with partition walls.
Maintain hazmat storage locker temperatures per manufacturer requirements. We offer temperature control options for both heating and cooling.
Customize each hazmat storage locker with accessories for each type of chemical being stored, including but not limited to, integral fire suppression systems, mechanical or passive ventilation, explosion- or non-explosion-proof lighting, etc.
Store Chemical Drums Safely in a Hazmat Storage Locker
No matter what kind of hazardous material you need to store, U.S. Chemical Storage can provide the hazmat storage locker solution to keep you safe and compliant. 
Contact us today 
for a free quote.