U.S. Chemical Storage designs and manufactures customizable pesticide storage buildings for agrichemicals and other hazmats. Pesticides must be properly stored to avoid hazards to human health and the environment. Agricultural pesticides are used in many applications, including protecting crops, controlling weeds, insects, and fungi. They are also used for altering the life cycle of harmful pests. Agricultural pesticides are widely used to control threats to agricultural production that can impact the food supply.
Safe Storage Solutions for Pesticides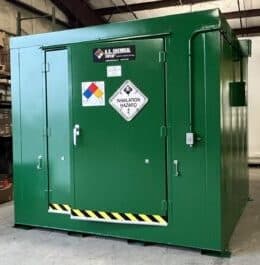 Always store pesticides in cool, dry, areas that are well-ventilated and protected from unauthorized access. Extreme temperatures can change the chemical components of some pesticides, rendering them ineffective. In certain cases, it causes the chemicals to be more harmful to plants, animals, water sources, and people. Temperature-controlled storage helps maintain a compliant storage atmosphere for your inventory. Mechanical ventilation can decrease internal temperatures and help eliminate toxic fumes or dusts that pesticides or other chemicals can give off while being stored or handled.
Good housekeeping practices are important for safely storing pesticides. A dry and completely enclosed pesticide storage building is necessary. Large quantities of pesticide storage can be very dangerous to handle and store, therefore proper containment and maintenance are required.
U.S. Chemical Storage TurfLoc™ and DrumLoc™ pesticide storage buildings can significantly reduce your risk of contaminating the environment or ground water surrounding your building. Our leak-tested secondary containment sumps offer increased protection in case of a spill or leak. All buildings are completely customizable* to keep your pesticides safe, dry, and secure. Fire-rated construction and modular options also available, along with optional accessories such as temperature controls, shelving and more.
*Pesticide storage regulations vary by state, so be sure to consult with all federal, state and local regulatory agencies to ensure you understand the requirements for your pesticide storage building. Contacting your state's Department of Agriculture is also advised.