Designed to protect and maintain organic peroxides and similar flammable and corrosive chemical groups. Flammable chemical storage lockers offer customizable safety accessories including, but not limited to temperature controls, vapor detection, corrosion protection, mechanical ventilation and more.
Learn more about EPA, NFPA and OSHA approved, organic peroxide chemical storage buildings below.
About Organic Peroxides
Organic peroxides are any organic compound having two oxygen atoms linked together. These type of peroxides can cause severe fire and explosion hazards. Utilizing fire-rated storage buildings helps prevent the dangers of the substances being stored. Organic peroxides are heavily used in rubber and plastic industries as hardeners, curing agents, activatory and catalysts. Available forms of organic peroxides include solids, powders, pastes or even liquids.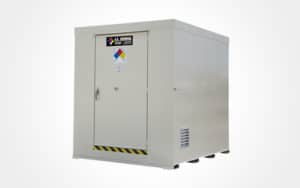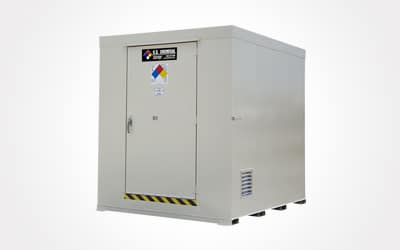 The common hazards with organic peroxides include fire and explosion. The hazardous chemical can also be corrosive, depending on the material. Organic peroxides can also decompose, which causes a heat that rises as the temperature increases. This is a fire danger that must be addressed before storing. Contact your local fire marshal on regulations regarding statewide and countywide regulations.
How to Store Organic Peroxides
Chemical storage lockers are designed specifically for storing organic peroxides and variations of the general "peroxy" group. These safe storage lockers are built to withstand hazardous situations including combustion, explosions, fires and corrosion. Built from heavy-gauge steel and constructed by certified and experienced welders.
Chemical storage buildings can be configured to meet 2- or 4-hour fire ratings for storing organic peroxide and other flammable materials nearby operating facilities to achieve maximum operational efficiency. Utilize shelving and racks when storing liquid forms, and/ or solids for optimal storage capacity. Chemical storage buildings are designed with fiberglass grate flooring to protect against corrosion, as well as temperature control units to protect lithium ion batteries from overheating or freezing.
Organic peroxides should be stored in a fire-rated chemical storage building to achieve full protection against fires, explosions or combustion. Fire-rated chemical storage buildings can be configured with safety accessories
U.S. Chemical Storage Advantages
Durable Steel Construction for Added Security, Protection, and Longevity
Non-Fire Rated or Fire Rated Construction Available
Explosion Proof and Non-Explosion Proof Accessories Available
15-Year Structural Warranty
100% Customizable and Compliant
EPA Compliant Spill Containment