Lithium-Ion Battery Storage Building
Power tools, LED lighting, automobiles, and the increase in everyday electronic devices have demanded the production of lithium batteries and, therefore, lithium battery storage. The demand for lithium-ion (Li-ion) batteries is predicted to grow. According to a blueprint report by the US Dept of Energy Federal Consortium for Advanced Batteries, the lithium battery market is predicted to grow by a factor of 5 to 10 by 2030. Because lithium-ion batteries can store large amounts of energy, fire and explosion risks are high. Special storage precautions protect workers and the environment. U.S. Chemical Storage manufactures prefabricated lithium battery storage buildings designed specifically for storing these batteries.
Lithium Battery Storage and Safety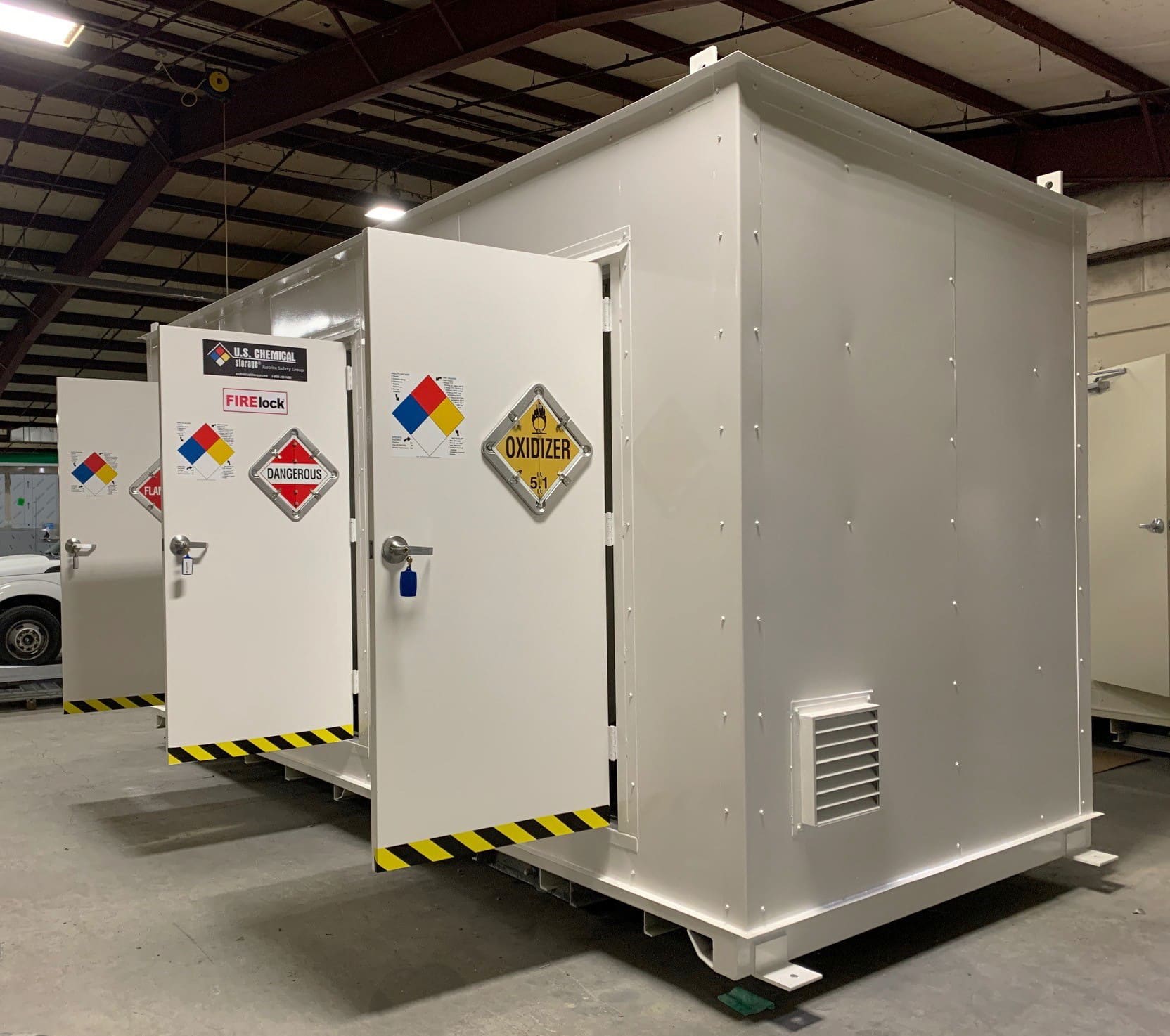 Lithium-ion batteries are known to spontaneously ignite and pose fire hazards due to overheating from poor battery design, damage to the battery through a drop or strike, electrical shorting, overcharging, rapid discharge, or increased storage temperatures. Li-ion batteries contain lithium metal, which is highly combustible.
Several designs of buildings to store or charge lithium batteries are available based on your unique needs, including fire-rated single and double-room buildings to separate storage from charging stations. Li-ion battery storage buildings from U.S. Chemical Storage are custom-engineered to fit your quantity and arrangement needs. Some lithium battery storage buildings are designed with fiberglass floor grating to protect against corrosion. We also provide large-scale lithium-ion battery storage for bigger needs.
Shelving and work surfaces can be included depending on your needs. The buildings can also be designed with temperature control units and sensors to protect lithium-ion batteries from overheating or freezing. Fire-rated and non-fire-rated construction is available, depending on the proximity of the storage to occupied buildings or the time needed to implement your fire plan.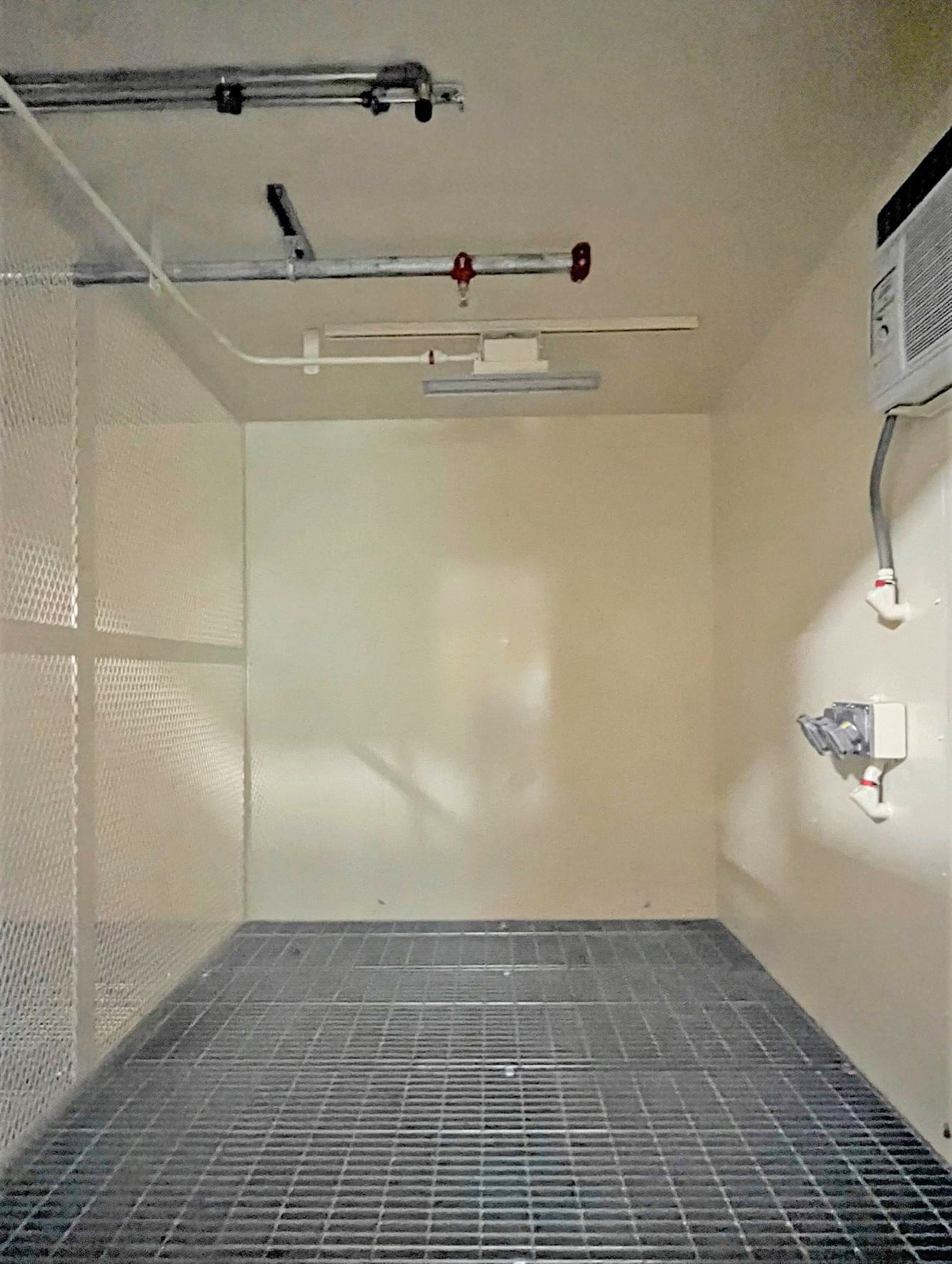 Optional Customizations for Li-ion Storage
Power outlets
Fire suppression systems
LED lights
Sensors & alarms
Workbenches (for buildings with charging rooms)
Temperature & climate controls
Multi-tiered shelving or cubbies
Fiberglass flooring
Chemical resistant paint
Additional options and safety accessories are available. As with any U.S. Chemical Storage product, our lithium-ion battery storage buildings have an industry-leading 15-year structural warranty.
Need a larger than standard footprint? Modular configurations are also available possible for all lithium-ion storage buildings.
Military Lithium Battery Storage Applications

Used in equipment such as drones and UAVs, as well as vital communications equipment, lithium-ion batteries play an important role in military operations. Improper storage poses a great risk to mission preparedness. U.S. Chemical Storage understands the mission-critical needs of the military and has extensive industry experience providing li-ion storage solutions for their specific applications.
To learn more about other buildings and structures we can provide to our military, visit our Military & Government section.
Get in Touch
Looking for a solution to your lithium-ion battery storage requirements? Contact one of our technical sales engineers and learn how U.S Chemical Storage can innovate the safety of your industry.