What we do
Hazardous Chemical Storage Buildings
U.S. Chemical Storage designs and manufactures safe, compliant prefabricated chemical storage buildings customizable for applications in many industries. Our experienced sales team and engineers ensures your company is fully educated and prepared to safely store your chemicals.
From your first contact to installation, we pledge to provide best in class quality solutions for your hazmat and chemical storage needs.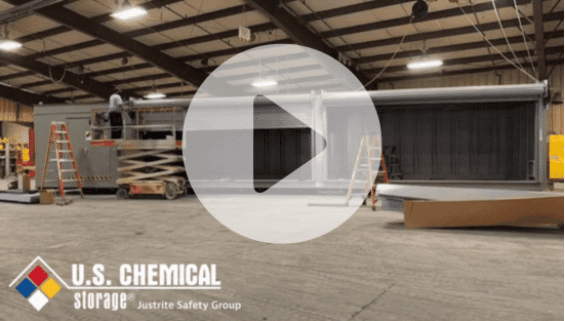 The best
What to Expect from Our Team

Built to Last
Each building relies on quality hand welding and the best materials to prevent failures and provide continued value, year after year. We guarantee it.
100% Customization
Your chemical storage needs are unique; don't settle for an off-the-shelf storage building. We have a variety of custom accessories to keep your storage needs as safe and efficient as possible.
Compliance Experts
Knowing the rules and regulations on a federal, state, and local level will save you time and money. Let our team help you navigate the terrain.
Our Team Delivers
Time is money. Your projects will never be put on hold waiting for us. Our team provides accurate lead times and meets delivery deadlines, so you can keep on schedule.
Where we do it
Industry Applications
What's new
Articles & Case Studies