Modular Chemical Storage Solution Provided Security and Bulk Paint Storage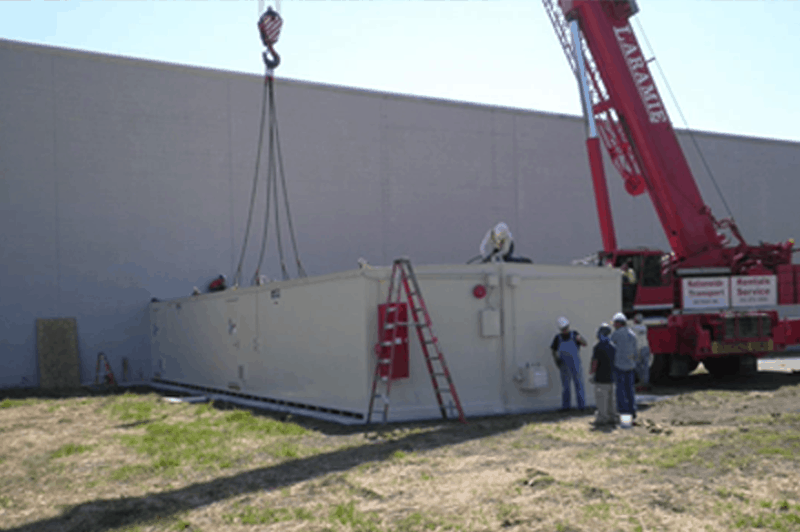 U.S. Chemical Storage was approached by a large paint manufacturer to assist in the design development and manufacturing of a large bulk storage space for their finished products. Their main warehouse was nearing its limit of storage capacity and was dangerously close to non-compliance.
The customer did not want to go through the arduous process of conventional construction because of the timeframe involved. The permitting process and the actual length of time involved with conventional construction could stretch on for months with a variety of trades involved. Due to safety procedures at their facility, they also did not want additional visitors on-site for extended periods of time that would be difficult to manage.
The following aspects were required in the construction of the prefabricated compliant chemical storage building:
The new duplex modular unit needed to be pre-engineered and pre-manufactured before arrival on site
It had to be connected to their warehouse facility with a building connector ensuring that personnel would not go outdoors with any finished product
Product had to be transferred from the existing facility to the building with relative ease for plant personnel
An intrinsically safe, explosion-proof environment was required of the design
The fire suppression system in the modular unit needed to be fully separate from the existing facility
The existing facilities secondary containment sump and the new building's containment sump should not be connected
The new modular building had to be furnished with a power voltage and have termination points for connection
The U.S. Chemical Storage Advantage
Working closely with the client and engineers, U.S. Chemical was able to meet all aspects of the scope of work in a relatively short period of time. All timelines were met per plan and specification. Once the client-approved drawings, the building went directly into manufacturing.
U.S. Chemical modular storage buildings go through a "dry run" process where the building is totally built on the factory production floor. All additional options and accessories go through extensive testing and HVAC Systems are cycled for 48 hours. It is designed to be easily assembled on site. Upon completion, the building was divided into halves and shrink-wrapped for shipment.
Site installation was performed by a crane and rigging process. The customer-supplied concrete pad foundation was verified to find any unleveled areas. The building is left complete and ready for government inspection upon placement and anchoring.
The modular unit was delivered onsite at 9:00 am and all crane and rigging were finished by 11:30 am. All of the internal and exterior finishes were completed, and the power hook-ups were completed on the same day. The client was only impacted by additional personnel being at their facility for one day vs WEEKS for other types of construction.
Interested in our flammable chemical storage buildings? Read other case studies or contact one of our experienced Technical Sales Engineers today to learn more about our industry-leading chemical storage buildings.
Read other case studies or contact one of our experienced engineers today to learn more about our industry-leading pre-fabricated, multi-piece modular buildings.