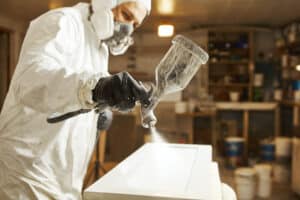 Paints are considered "flammable and combustible materials" according to OSHA. Storing large volumes of paint can be extremely dangerous; avoiding safe paint storage requirements may result in fines and other penalties. Proper paint storage buildings can help protect personnel and facilities that handle, store, mix and dispense paints and other flammable liquids.
Paints or other flammable liquid storage that exceeds 60 gallons must be stored in a paint storage building to protect flammable liquids against flash fire, prevent paint containers from building excessive internal pressure and contain flammable liquid spills or leaks. Depending on their location in relation to other buildings or property lines, indoor and outdoor storage buildings may require fire-rated construction listed by the National Fire Protection Agency (NFPA 251-1969). OSHA requires all indoor paint storage buildings to contain the following:</P.
Paints contain additives, pigments and chemicals that can be harmful to humans and the environment if not disposed of properly. Paint waste, whether liquid or solid, must be properly disposed of in a flammable storage containment for paint that can handle proper flammables and hazardous materials.
Safe Paint Chemical Storage Buildings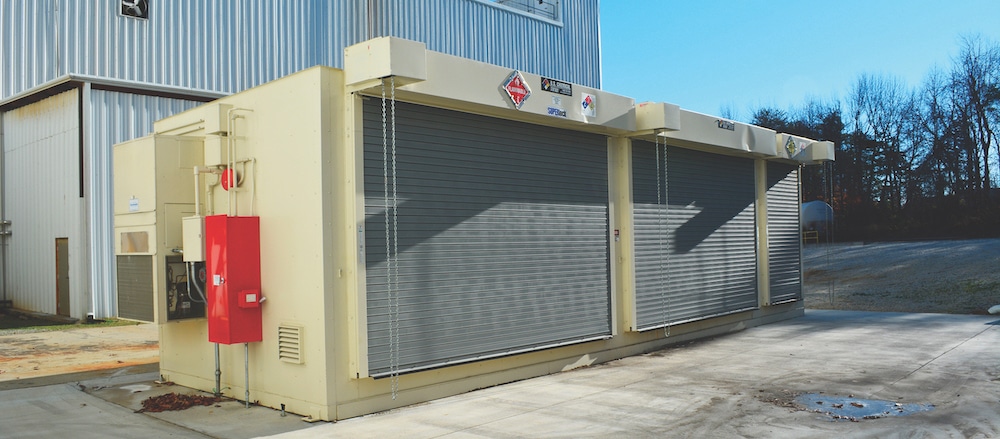 The two major types of paint are oil-based and water-based paints. Oil based paints are manufactured with a petrochemical product, usually mineral spirits or toluene, as a solvent. These paints include enamels, shellacs, lacquers, stains, seals, polyurethanes, and more.
Some paints are more flammable than others and some are more toxic than others. It is necessary that paint classifications are grouped separately to avoid hazardous situations. Grouping paints according to the NFPA 704 hazard classifications sign can provide for a safe and compliant chemical storage environment.
When storing small to large amounts of paint in your facility it is necessary that precautionary measures are met. Keep your paints stored in a fire rated chemical storage building for full compliance.
Whether storing paint containers or waste,
flammable chemical storage buildings
by U.S. Chemical Storage offer a safe and protected storage solution. Customize your paint storage locker with shelving,
racks
and
exhaust systems
to keep paint inventory safe and secure. Our buildings are designed to handle large volumes or small volumes of hazardous chemicals.
Meet all safe paint storage requirements by customizing your building with our full line of chemical storage accessories. Options include explosion proof electrical items such as interior lights, exhaust fans, heating, cooling, fire suppression, spill detectors, gas sensors and more.
SuperLoc 4-Hour Fire Rated Chemical Storage Buildings
Keep your flammable chemical storage paint container within 10 feet of or even inside your facility with a
SuperLoc chemical storage building
. SuperLoc chemical storage buildings are 4-hour bi-directional fire rated for the ultimate protection.
The SuperLoc chemical storage locker provides superior strength and safety when keeping paint storage maintained and compliant. All pre-fabricated steel buildings feature a leak-tested secondary sump containment for spill protection and leak protection and can be engineered to meet all safe paint storage requirements.
Paint Storage Tips – Achieve Full Compliance
Keep updated inventory on all paints that are being stored.
Label paints by contents and hazard classifications.
Store paints out of the reach of children or other entrants.
Keep possible contaminants away from paint inventory.
Maintain room temperature inside your flammable storage container.
Keep paint storage away from extreme temperatures.
Dispose of paints in a household hazardous waste building or collection site.
Label your flammable paint storage building with proper hazard classifications.
Order Your Paint Storage Building Today
Keep your paint inventory safe and compliant with customizable paint storage buildings from U.S. Chemical Storage. Constructed by our professional engineers and experienced, certified welders for maximum strength and dependability, every paint storage building is tested before it leaves the factory for complete quality assurance. Contact us today for a
free quote
.