Updated January 2, 2023
What are Lithium-ion Batteries?
How to store lithium batteries is a highly searched key phrase online and individuals are confused about current regulatory requirements. Since their introduction in 1991, lithium-ion (Li-ion) batteries remain popular among small and large corporations alike due to their long lifespans and lightweight designs. Today we use them as the main power source for smartphones, laptops, tablets, drones, scooters, bikes, and electric cars. However, if lithium batteries are not stored properly, they can be extremely dangerous. In this article, we'll offer some suggestions on how to store lithium batteries.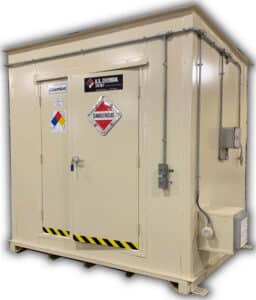 Tips for Lithium-ion Battery Storage: Temperature and Charge
Temperature is vital for understanding how to store lithium batteries. The recommended storage temperature for most is 59° F (15° C)—but that's not the case across the board. So, before storing lithium batteries, thoroughly read labels on proper storage for your specific battery type.
Lithium battery storage buildings
with climate control are ideal for storing bulk quantities of Li-ion batteries at specific temperatures to ensure a safe storage environment. Also, be aware of the state of charge while storing. Nickel and lithium-ion batteries should be stored at around 40% state of charge. Lithium-ion batteries might become unstable if not stored at their proper levels. Be sure to know the specifics unique to YOUR battery. To ignore such information that could prove devastating. Overcharging may cause excessive heat to damage the battery internally and potentially create a fire event. Some batteries specify a charge between 30% and 50%. Some cells can be stored fully discharged, although the cell voltage should not drop below 2.0 for optimal safety. The maximum voltage should not exceed 4.1 volts. Always follow the individual charging instructions provided with each Li-ion battery from the manufacturer.
How to Store Lithium-ion Batteries: Maintenance and Handling Precautions
Monitor battery charge status while charging
Ensure temperature controls are set to specified temperatures
Observe run time with a fully-charged battery
If you drop a battery, inspect closely for damage and isolate that battery if possible until fully tested
Check batteries before placing them in storage for irregularities in charge status
Avoid exposing Li-Ion batteries to excessive vibration
Do not keep batteries in excessively high OR low temperatures
Always handle batteries with caution
Place batteries in storage after the building reaches recommended temperature levels
Do not use damaged batteries
In case of contact with fluid, do not rub your eyes. Immediately flush eyes at an eyewash station
Wash hands after handling batteries
Finding Lithium-ion Battery Storage Solutions with U.S. Chemical Storage
Upholding Safety and Quality
Li-ion batteries present challenges and hazards to manufacturers who rely on safely storing these powerful energy tools, and the right storage solution can make or break your operation. U.S. Chemical Storage prides itself on providing safe and reliable prefabricated storage buildings designed to store lithium batteries. Carefully designed lithium battery storage buildings present a tangible solution for how to store or charge batteries while preserving your products for ease of access and safety.
Serving Across Industries
U.S. Chemical Storage is happy to service several industries that depend on lithium-ion batteries and Li-ion cells for production, including automotive, marine, medical, robotics, aerospace, and tech. However, the list is growing exponentially every day. We proudly work with the military for
mission-critical applications
and have a reputation for providing safe products suited for drones, surveillance, UAVs, and other vital equipment.
Current Code Regulations
Mitigate, Isolate, and Prevent
There is currently no code in the U.S. that regulates the proper storage of new or used batteries, charging of batteries, or the recycling of batteries. The only recommendations so far are those from the NFPA that address Battery Energy Systems (BESS) for large-scale energy applications like wind or solar farms. So while we can not say that we offer code-compliant solutions for lithium battery storage, it's only because there is no code. HOWEVER, we design buildings for highly dangerous flammable and combustible chemicals and powders every day. Lithium batteries are just one more hazardous material we are happy to tackle. Our recommendation when deciding what to do for your Lithium Battery application is to
ISOLATE any batteries within a fire-rated building. This can help protect other property but can allow fire crews to identify and surround a fire quickly.
MITIGATE the battery's volatility by outfitting that building with features such as climate control, power sources that can be segregated for quick response, sirens and alarms to notify of environmental changes inside, and fire suppression systems to stop a thermal event before it starts.
PREVENT to prevent an off-gassing or thermal runaway even from happening in the first place. U.S. Chemical Storage is committed to offering the most up-to-date solutions for sensors and detectors as this rapidly-changing industry allows. Depend on us to be constantly staying abreast of any regulations or changes made in the future.
The Best Place to Store Batteries
Lithium battery storage buildings are 100% customizable and can be equipped with charging stations for safe convenience.
Our Battery Storage Solutions
Temperature
is a vital factor in ensuring your batteries are stored safely, which is why we offer
climate control options
for your storage building, including access controls and temperature regulation to keep your operation running smoothly.
Fire suppression systems
are a must for storing hazardous materials, which is why we offer several options for
fire suppression
, including dry chemical storage fire suppression or water sprinklers to possibly slow the event a fire occurs. Our buildings also feature
mechanical ventilation
,
fiberglass grated flooring
, and a variety of
door styles
for exit and entry. These factors are designed with the user in mind for the safe movement of lithium-ion batteries. Being able to
access your materials
when and where you need them is crucial to smooth, productive operation.
Location
is another critical aspect of storing batteries long term. U.S. Chemical Storage provides safe, reliable,
prefabricated storage buildings
, including solutions for outdoor and indoor storage.
Fire-rated lithium storage buildings
can be located outdoors and placed a safe distance away from other property if necessary.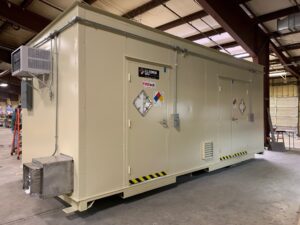 Keep your lithium-ion batteries easily sectioned with
multi-room storage
.
Let Us Build a Custom Storage Solution for You
Have questions about how we can serve your industry and how to store lithium batteries?
Contact us
or call us at (800) 233-1480 to schedule a free consultation today or to receive a free quote. Let our team of experts be dedicated to properly engineered solutions to help you ISOLATE, MITIGATE, and PREVENT a lithium battery event through li-on battery storage and charging solutions.
References