Updated July 2, 2021
What are Lithium-ion Batteries?
Since their introduction in 1991, lithium-ion (Li-ion) batteries remain popular among small and large corporations alike due to their long lifespans and lightweight designs. Today we use them as the main power source for smartphones, laptops, tablets, military drones, and even electric cars. However, if lithium batteries are not stored properly, they can be extremely dangerous. In this article, we'll offer some suggestions on how to store lithium batteries.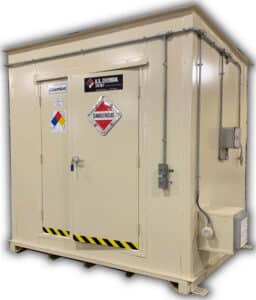 Tips for Lithium-ion Battery Storage: Temperature and Charge
Temperature is vital for understanding how to store lithium batteries. The recommended storage temperature for most is 59° F (15° C)—but that's not the case across the board. So, before storing lithium batteries, thoroughly read labels on proper storage for your specific battery type. Lithium battery storage buildings with climate control are ideal for storing bulk quantities of Li-ion batteries at specific temperatures to ensure a safe storage environment.
Also, be aware of the state of charge while storing. Nickel and lithium-ion batteries should be stored at around 40% state of charge. Lithium-ion batteries might become unstable if not stored at their proper levels. Be sure to know the specifics unique to YOUR battery. To ignore such information may cause excessive heat to damage the battery internally and potentially create a fire event. Some batteries specify a charge between 30% and 50%. The cells can be stored fully discharged, although the cell voltage should not drop below 2.0 for optimal safety. The maximum voltage should not exceed 4.1 volts. Always follow the charging instructions provided with each Li-ion battery.
How to Store Lithium-ion Batteries: Maintenance and Handling Precautions
Monitor battery charge status while charging
Ensure temperature controls are set to specified temperatures
Observe run time with a fully-charged battery
Ensure batteries self-discharge
Check batteries before placing them in storage for irregularities in charge status
Avoid exposing Li-Ion batteries to excessive vibration
Do not keep batteries in high OR low temperatures
Always handle batteries with caution
Place batteries in storage after the building reaches compliant temperature levels
Do not use damaged batteries
In case of contact with fluid do not rub eyes. Immediately flush eyes at an eyewash station
Wash hands after handling batteries
Finding Lithium-ion Battery Storage Solutions with U.S. Chemical Storage
Upholding Safety and Quality
Li-ion batteries present challenges and hazards to manufactures who rely on safely storing these powerful energy tools and the right storage solution can make or break your operation. U.S. Chemical Storage prides itself in providing safe and reliable prefabricated storage buildings designed to store lithium batteries. Carefully designed lithium battery storage buildings present a tangible solution for how to store batteries long term while preserving your products for ease of access and safety.
Serving Across Industries
U.S. Chemical Storage is happy to service several industries that depend on lithium-ion batteries and Li-ion cells for production, including auto industries, marine and boat use, medical suppliers, energy departments, and technology developers who produce household products like cell phones and laptops. We proudly work with the military for
mission critical applications
and have a reputation for providing safe and code regulated products suited for drones, UAVs, and other vital equipment.
The Best Place to Store Batteries
Lithium battery storage buildings are 100% customizable and can be equipped with charging stations for safe convenience.
Our Battery Storage Solutions
Temperature
is a vital factor in ensuring your batteries are stored safely, which is why we offer
climate control options
for your storage building, including accessible controls and a thermostat to keep your operation running smoothly.
Fire suppression systems
are a must for storing hazardous materials, which is why we offer several options for
fire suppression
, including dry chemical storage fire suppression, water sprinklers, and fire extinguishers for peace of mind. Our buildings also feature
mechanical ventilation
,
fiberglass grated flooring
, and a variety of
door styles
for exit and entry. These factors are designed with the user in mind for the safe movement of lithium-ion batteries. Being able to
access your materials
when and where you need them is crucial to smooth, productive operation.
Location
is another critical aspect of storing batteries long term. U.S. Chemical Storage provides safe, reliable,
prefabricated storage buildings
, including solutions for outdoor and indoor storage.
Non-fire rated designs
offer a place for lithium-ion batteries to be stored outside of facilities, while
fire-rated lithium storage buildings
can be loca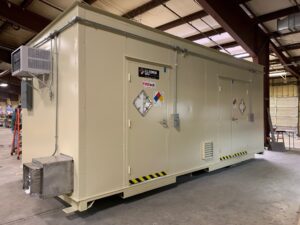 ted near or inside of facilities for boosted productivity and efficient manufacturing operations. Keep your lithium-ion batteries easily sectioned with
multi-room storage
.
Let Us Build a Custom Storage Solution for You
Have questions about how we can serve your industry?
Contact us
or call us at (800) 233-1480 to schedule a free consultation today or to receive a free quote. Let our team of experts dedicated to craftsmanship, quality, and safety help you get your operation running smoothly with personalized storage and optimized lithium battery storage solutions.
References