What You Need to Know About Safe Agrochemical Storage
The importance of safe agricultural chemical storage can not be overstated. In July of 2021, an agribusiness company was fined over $65,000 when officials discovered that two of its facilities did not comply with chemical storage regulations. In one facility, they discovered a hole in the floor of the storage containers where Gramoxone SL 2.0 and Vydate, several types of pesticides, were kept. These pesticides can cause organ scarring, weakness, and death from exposure. In the second facility, a leak from a storage container had caused the pesticide Vapam HL to spill and solidify on the ground. The improper storage of the chemicals at both facilities posed a risk to the health and safety of the workers at the company and the environment.
While there are specific EPA regulations for storing and transporting pesticides and other agrochemicals, other restrictions may be specific to a state or municipality. They are not always clear to the companies or individuals who own these chemicals.
Let's dive deeper into proper agrochemical storage, why it matters, and how you can bring your industry up to compliance with the help of U.S. Chemical Storage.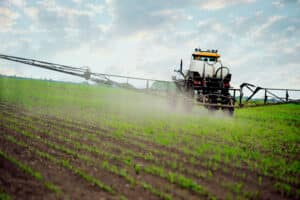 The Hazards of Agricultural Chemicals
It seems ironic that the chemicals used in agriculture to help living things grow and thrive can potentially harm humans and the environment. Human exposure to pesticides or fertilizers can result in dizziness, muscle tremors, chemical burns, and other symptoms. This exposure, if prolonged or direct enough, can result in long-lasting health issues like blindness, fertility, congenital disabilities, various cancers, and death.
Pesticides, herbicides, and seed treatments
Pesticides, herbicides, fungicides, insecticides, and seed treatments help control pests and enhance crop yield. Their storage and use must consider the potential soil and water effects downstream.
When improperly stored, these chemicals also have a higher risk of leaching into the ground, even reaching the water table and aquifers. They will negatively affect the surrounding area, often contaminating soil and drinking water.
Fertilizers
Fertilizers provide crops with nutrients to optimize yield and optimize growth. Nitrogen (N) in the form of Urea Nitrate or Ammonium Nitrate, Phosphorous (P), and Potassium (K) are commonly utilized as nutrients to create an N-P-K formulation. The ratios of each will vary depending on the soil composition and the crop requirements.
These chemicals can also become a focus of nefarious activity, which was allegedly the case in a destructive explosion at an April 2013 fertilizer plant in West, Texas. The ammonium nitrate explosion created a blast equivalent to an earthquake of 2.1 on the Richter scale, caused $100M in property damage, and killed 15 people. The ATF determined that the initial fire that led to the explosion was intentionally set.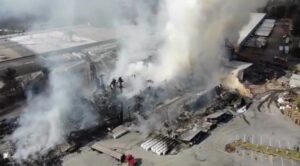 A fire broke out in a fertilizer plant in Winston-Salem, NC in 2022. Fortunately, an explosion was avoided, but at the time of the fire, the facility stored 600 tons of ammonium nitrate in the building, and another 90 tons in a nearby rail car all within a heavily populated residential area. With a facility that was built in the 1940s, grandfathered code led to vastly different storage requirements than would be considered for use today in a newer facility. The importance of safe agricultural chemical storage includes staying ahead of safety even when the code doesn't explicitly require it.
Ammonium nitrate was also used in the Oklahoma City bombing in 1995. The perpetrators purchased two tons of the substance (albeit legally) through an agricultural co-op. The resulting explosion killed 168 adults and children and damaged 300 buildings.
Agrochemicals used as fertilizers pose a severe risk of combustion/explosion. Ammonium Nitrate was at the heart of the Beirut explosions of 2020. While this event was not linked to a terrorist act, the 2,750 tons were stored "without preventative measures" at a port warehouse.
Without a secure chemical storage container, the owners of these substances run the risk of having them stolen and used for terrorism or other nefarious purposes. Minimize risks whenever possible.
Agricultural and Agrochemical Solutions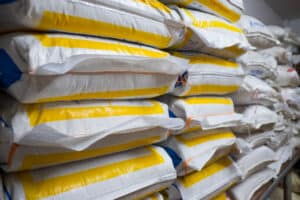 Beyond simply following regulations, proper 
chemical storage designed for agricultural use
enhances productivity. These well-crafted buildings are carefully manufactured with the expertise of experienced engineers to meet rigorous industry standards while keeping your chemicals safe, secure, and still accessible when needed.
U.S. Chemical Storage
offers a variety of hazardous materials storage to suit your organization's needs, with customizable fire-rated or non-fire-rated buildings to store the chemicals for agriculture management.
For alignment with many required codes, the buildings feature internal secondary containment to prevent leaching into the surrounding environment and water supply. These buildings are constructed from heavy-gauge steel and hand-welded by employees certified and experienced in the trade. Many models are third-party certified to meet or exceed standards for fire ratings, excessive wind loads, and the elements. Engineering experts design them to meet the EPA standards you require.
Create the perfect chemical storage solution for your agricultural and turf management needs with 100% customizable solutions. Some of the more popular options include:
Internal racks or shelves for volumes large or small to optimize space
Multi-room designs for segregation of different chemical classifications
A variety of door styles and door locks for utmost protection
Explosion-proof lighting, HVAC, electrical features, and explosion relief panels
Ramps for ease of entry and dolly transport
Detection sensors, strobes, and sirens
Fire suppression systems – dry chemical or water
When you begin working with a Technical Sales Engineer, they will guide you to one of our structural designs due to the importance of safe agricultural chemical storage. These include ChemLoc® or DrumLoc®, which are non-fire-rated construction, our two-hour bi-directional fire-rated FireLoc®, or the four-hour bi-directional fire-rated SuperLoc®. Which design you need will depend on what you are storing and where you are planning on placing the building.
Get Started with Agricultural Chemical Storage
Ready to bring your operations up to compliance or optimize your systems already in place? The team at U.S. Chemical Storage is here to help with exceptional customer service and decades of hazardous storage and engineering expertise. Contact us to get started today or give us a call at 800.233.1480.
References