Minimize Risk Through Proper Chemical Storage
What Are Chemical Storage Buildings?
 Chemical storage buildings are designed for the safe and effective storage of flammable chemicals as well as other hazardous materials such as lithium-ion batteries, paints, or chemical waste. These cost-effective solutions to chemical storage help bring industry operations to compliance with state and federal regulations, and their specialized design helps minimize the risk of spillage, injury, theft, or disasters, both natural and man-made.  The goal is to minimize risk through proper chemical storage.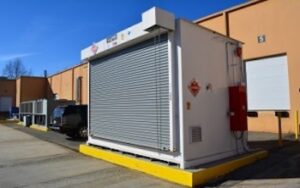 At U.S. Chemical Storage, our specialized chemical storage buildings are designed for maximum safety with customizable features to fit a client's specific needs. Choose between fire-rated and non-fire-rated buildings, or add alarms, gas sensors, and even climate control. Each chemical storage building is EPA-compliant, has a 15-year structural warranty, and features a leakproof-tested secondary spill containment sump.   
Improper Chemical Storage Risks
Chemical storage safety is vital, as the improper storage of chemicals can lead to undesirable, long-term health impacts for anyone who comes into direct contact with the materials or their fumes. Negative chemical storage environmental impacts can result from the spills or vapors of improperly stored hazardous materials, which can leach into the surrounding ecosystem and cause damage to the nearby flora and fauna, potentially seeping into local waterways and contaminating drinking water as well.   
Depending on the location of your stored chemicals, a chemical storage building may also help mitigate the risk of natural disasters such as earthquakes, high winds, or floods. Spills and leakage result from utilizing containers ill-suited to the type of chemical stored, causing spills and leakage. A proper chemical storage building will prevent chemicals from leaching into the water during floods and keep flood waters from penetrating the building and causing damage to its structure and the items within. These disasters can cause severe and expensive property damage. Using a proper, regulation-compliant chemical storage building can help to reduce pollution, minimize property damage and cleanup expenses, and keep spills from reaching groundwater and aquifers.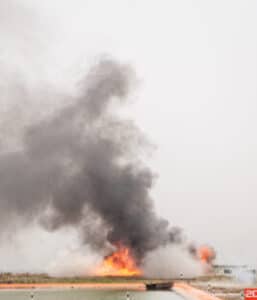 Another risk to bear in mind is the risk of chemical or hazardous material theft due to improper storage. Chemical terrorism is the act of using chemicals either through theft or sabotage to destroy life, injure humans or the environment, or produce panic and fear. Others causing intentional harm using chemicals and hazardous materials is a genuine danger. Many chemicals extensively used in manufacturing also have black market value and are susceptible to theft for a quick sale to those looking to make drugs, bombs, or commit other nefarious acts. A safe and secure chemical storage building helps prevent such occurrences.
Each chemical storage building from U.S. Chemical Storage features secure welded steel construction and a variety of locking doors, alarms, and sensors available to keep unwanted visitors away and your hazardous chemicals safe from danger.  
How to Choose a Chemical Storage Building
Choosing a suitable hazardous material and chemical storage building for your specific needs is essential to your safety and the safety of others. To determine which chemical storage building is suitable for you, we must identify the chemicals you need to be stored, the volume and weight of those chemicals, and the location where you need to store them. Depending on their proximity to an occupied building, setbacks, or other property, you might need to utilize a building with a specific fire rating to stay within federal, state, or municipal chemical storage regulations. After that, you can customize your storage building with temperature control, fire suppression systems, ventilation, lighting, sensors, alarms, and more.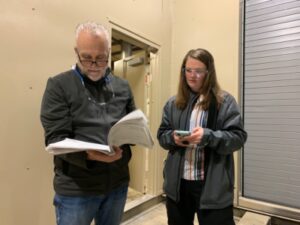 Our consultative approach to chemical storage solutions has helped many companies and agencies find a chemical storage building perfect for their needs. We never try to make you force you into an existing building that isn't right for your application. We aim to keep you from overpaying for unmaximized space and outfitting you with only the features you genuinely need. We provide case studies to show how we have helped previous clients find the chemical storage solution that addressed their specific problems. We are also happy to connect you anytime with past satisfied customers to learn more about their experience working with us.   

Minimize Risk Through Proper Chemical and Hazmat Storage from U.S. Chemical Storage
The experts at U.S. Chemical Storage have over 30 years of experience providing custom and compliant chemical storage solutions for hazardous materials. From your start with our technical sales engineer team to our in-house engineers, welders, carpenters, electricians, finishers, and shipping coordinators, we provide timely and quality service to our clients. Let us help you minimize risk through proper chemical storage. Request a quote today to get started finding your ideal chemical storage building.