Improper Ammonium Nitrate Storage Causes Explosion
On the evening of Tuesday, Aug. 4, 2020, an
explosion rocked a warehouse near the main port in the Lebanese capital city of Beirut
. The blast registered as a 3.3 magnitude earthquake and could be felt up to 150 miles away. Its sheer force catapulted cars through the air like Hot Wheel toys, their windows shattering as they slammed into crumbling buildings. In the immediate aftermath, hundreds were unaccounted for; thousands more lost their homes and workplaces. As the dust settled the next day, the sobering devastation became clear. The explosion was so widespread and severe, it caused an estimated $3 to $5 billion worth of damage. Though first responders worked around the clock, initial casualties numbered more than 135, and thousands were hospitalized with injuries. While the conclusive cause of the blast is under investigation, preliminary reports indicate 2,750 tons of ammonium nitrate had been stored "without preventative measures" at a port warehouse for the past six years. For perspective in understanding the true scope of how dangerous that amount is, let's compare it to the
1995 Oklahoma City bombing
. This is the same chemical that Timothy McVeigh used to blow up a federal building, killing 168 people and damaging 300 buildings.Except he only used two tons of the same white crystalline chemical. So you see, it is of utmost importance to keep Ammonium Nitrate stable, safe and secure in a Chemical Storage Building.
What Is Ammonium Nitrate?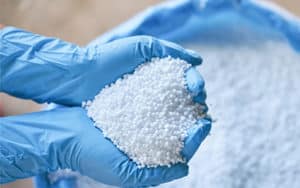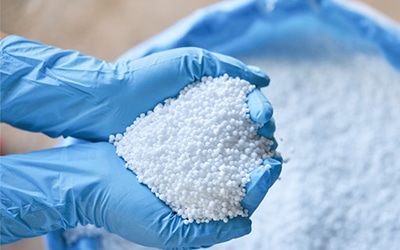 Ammonium nitrate is commonly used in the fertilizer industry, in cold packs, and in the production of yeast, antibiotics, and industrial explosives. Because it is an oxidizer, it accelerates the burning of combustible materials. This also makes it very useful in the mining industry as the main component of ANFO (ammonium nitrate fuel oil), a common explosive. Capable of coalescing into a single mass, this chemical requires a tight container to avoid absorbing moisture from the air.
ammonium nitrate exploded at the West Fertilizer Company
distribution facility in Waco, Texas. It killed 15 people, wounded more than 160, and caused millions in damage.
Use Chemical Storage Buildings for Safe Ammonium Nitrate Storage
Because of its inherent danger, it is vital to understand all the safety guidelines for storing ammonium nitrate. As a strong oxidizing agent, the chemical should be segregated from combustible materials to avoid such disasters. It should also be separate from other chemicals such as chromium and copper salts, urea, acids and alkalis. U.S. Chemical Storage
fire-rated pre-fabricated steel storage buildings
offer the highest level of protection against fires and explosions. Because ammonium nitrate is hygroscopic, the tight containers should be stored in a well-ventilated area. The chemical can undergo explosive decomposition when heated in a confined space, so it should be stored in a cool area with proper fire suppression systems.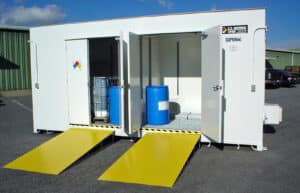 Our
SuperLoc storage buildings
feature 4-hour fire rated bi-directional wall construction. In case of a fire because of an ammonium nitrate reaction, the fire will be contained within the building for four hours, allowing personnel time to evacuate safely. But, unlike competitor storage buildings, U.S. Chemical Storage fire-rated wall construction also protects the building's contents by preventing a fire outside the storage building from reaching the chemicals inside. SuperLoc buildings are designed to be fully compliant with government regulations and built to safeguard your personnel, inventory, and equipment in the event of a fire or explosion. We engineer our buildings to your specifications while meeting the highest safety standards for explosive storage. Customizable options when storing ammonium nitrate include
climate controlled storage
,
explosion relief panels
, and explosion proof accessories such as
fire suppression systems
and
ventilation
.
Order Your Customizable Chemical Storage Building Today
U.S. Chemical Storage offers fully compliant, customizable storage solutions for your ammonium nitrate storage needs. Our pre-fabricated chemical storage buildings are built with the highest-quality steel for superior strength and durability, giving you more freedom in building placement, and ensuring the safest chemical storage solution.
Request a free quote today
.