[updated Feb 5, 2023]
Working with
The Right Chemical Storage Solution: Cabinets, Lockers, or Buildings
An NFPA 2014 report revealed flammable or combustible liquids contributed to annual property loss of $374 million in non-residential structures per year. These fires resulted in an annual average of 458 civilian injuries and 34 deaths per year. Isolation and storage of flammable or combustible liquids in proper structures is key to reducing these statistics. Chemical Storage Cabinets, Chemical Storage Lockers, and Chemical Storage Buildings are designed to reduce those numbers and meet important building and safety codes. U.S. Chemical Storage can help you know when to use a chemical storage building or another chemical storage structure type.  
The vocabulary used to describe different types of flammable, combustible, or corrosive chemical storage structures may be confusing to some. Most project managers don't purchase these products every day, perhaps only once in their entire career. With this article, we will help you determine the right chemical storage solution: cabinets, lockers or buildings.
Chemical Storage Buildings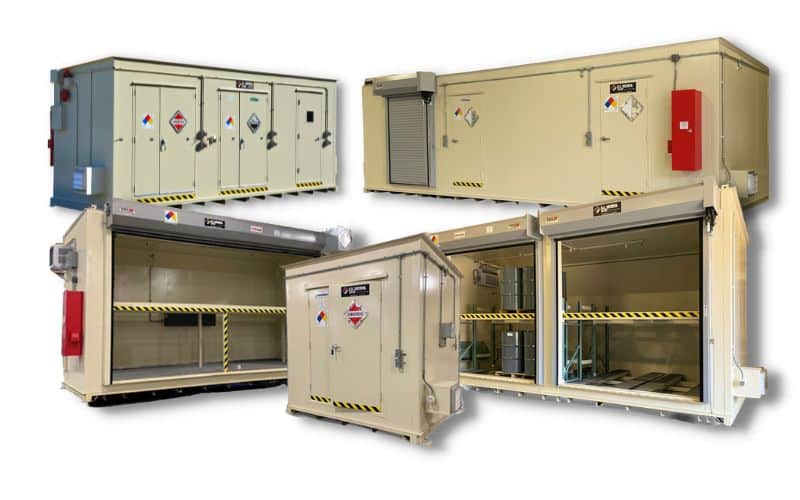 Within the industry, there is a generally accepted difference between "chemical storage buildings" and "chemical storage lockers" mainly in their size and features. So how do you know when to use a chemical storage building? Buildings are larger, have more capacity, and have more features for
mitigating risk
and optimizing material handling. Often the term "building" and "locker" are used interchangeably. 
Chemical Storage Buildings and Hazmat Storage Buildings are a specialty of U.S. Chemical Storage. These are structures built from hand-welded heavy-gauge steel, fully prefabricated with all options installed before they ship to the site. They are considered "plug and play" solutions that often have many advantages over site-built construction. 
A patented wall design is applied to achieve
4-hour or 2-hour fire rating. Non-fire rated construction
is also available. The
fire rating requirement
should be determined based on what you are storing, how much you are storing, and the placement in relation to people or property. 
Like lockers, buildings are designed to be used outdoors and anchored to a concrete pad, but they can also be placed inside existing structures depending on the code of a specific area and the material being stored. 
A "locker" is often considered a "building" when the size is larger, and options are added. They can have features to store and allow access to drums, totes, bulk bags or FIBCs, palletized materials, gas canisters, and tanks. They can also be designed for utilization as occupancy structures for dispensing, mixing, housing equipment or
laboratories
(each of which may have additional codes, regulations, or institutional best practices that should be followed). 
Chemical and Hazmat Storage Buildings can also be built so all electrical elements such as outlets or HVAC units are
intrinsically safe (explosion-proof)
. Explosion Relief Panels (ERPs), or blast panels, can be added to the walls, to release pressure and direct the blast should an explosion occur inside. The addition of these features is something that makes Chemical Storage Buildings unique, and we build dozens of these structures every year.
There are no codes or chemical storage regulations that dictate certain colors for lockers or buildings. U.S. Chemical Storage sells buildings in a variety of standard colors with the most popular being "Bone." We have 4 basic colors, but our skilled team can match any custom color you specify for a nominal charge. 
Chemical storage buildings are weatherproof and often have ventilation features and can have insulation, climate control, fire suppression systems, alarms, liquid level or gas sensors, a variety of door options and lock styles,
custom-sized containment sumps
, ramps, sinks, eyewash stations, safety showers, lighting, and much more. 
Chemical Storage Lockers
This term is used in the NFPA code document 30 – chapter 14. It has the same make-up as a chemical storage building but goes by the alternate name 'locker' in the verbiage of NFPA. Within our industry, "lockers" refer to a smaller size of 55-gallon drum-style buildings.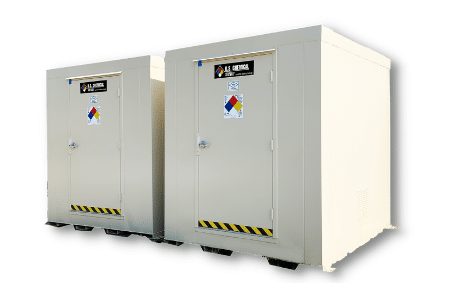 "Lockers" are a basic drum storage solution designed for flammable liquids and hazmat for outdoor use. They serve a valuable purpose for safe and secure hazmat storage. Base model lockers are steel construction, with
secondary containment sumps
and passive ventilation. Most lockers from U.S. Chemical Storage are FM-approved, and they are available in 4-hour or 2-hour fire rating models or non-fire rated models.
Chemical storage lockers
are sized to house 55-gallon drums in quantities as few as two, or as many as 16 drums. The type of chemical and the volume stored will dictate when storage must go from a chemical cabinet to a locker or building.  
Basic flammable locker models are created with 3-point locking doors and passive ventilation without insulation.
They also arrive with an NFPA 704 diamond decal for content identification, anchoring plates for secure attachment to your concrete pad, and static grounding connection for maximum safety. Forklift channels permit easy relocation later if necessary.
Additional features such as insulation, climate control, mechanical ventilation, lighting, fire suppression, and other options found in larger buildings can certainly be added at our manufacturing facility before shipping. These options are not standard, and it's important to note that their addition can affect the number of barrels or totes that can be stored within. 
The placement of a chemical storage locker is specific to the MDS of the chemical being stored and should be coordinated for approval from your local Authority Having Jurisdiction (AHJ). The lockers are anchored to a concrete pad outside or may be used inside depending on the chemical type being stored or the additional options applied. 
US Chemical Storage builds hundreds of Chemical Storage Lockers every year, and we can certainly build one for you. 
Chemical Storage Cabinets
Safety Cabinets
for chemicals are cabinets made from an 18-gauge steel used to store smaller volumes of flammable liquids, corrosives, or other hazmat materials. Flammable Safety Cabinets are allowed ONLY for use inside an existing building. While there are some variations, a general rule is that a flammable safety cabinet can be considered for small "Maximum Allowable Quantities" inside an existing building. Depending on the specific class of the chemical, that may be a gallon or two, or up to 110 gallons. 
There is no such thing as an outdoor flammable storage cabinet. Chemical Storage Cabinets can ONLY be used indoors and should never be placed outside or exposed to the elements. They are designed to be located closer to point-of-use. Often, liquids are stored in a larger locker with more volume of chemical, then the daily use amount is dispensed and conveniently stored in a chemical storage cabinet for the day's use. 
Cabinets are fire-rated for only a few minutes, to allow a minimum time for people to evacuate. They may have safety features like self-closing or self-latching doors to meet IFC requirements. There is a limit to the number of safety cabinets that can be utilized within a structure. Most cabinets are FM-approved. However, note that there are no temperature controlled chemical storage cabinets. They will be the temperature of the environment they are placed within.
The colors of chemical storage cabinets are somewhat dictated by OSHA to be red in color for those containing flammable liquids. That is the color most recognized by firefighters during a blaze. Other colors may have recommendations within an NFPA system: green for pesticides, blue for corrosives, etc.
The use of more than one chemical safety cabinet to extend these storage volumes further. There is a limit of three safety cabinets per internal storage area.
So, Which Do I Use?
Safety Cabinets vs Chemical Storage Buildings vs Chemical Storage Lockers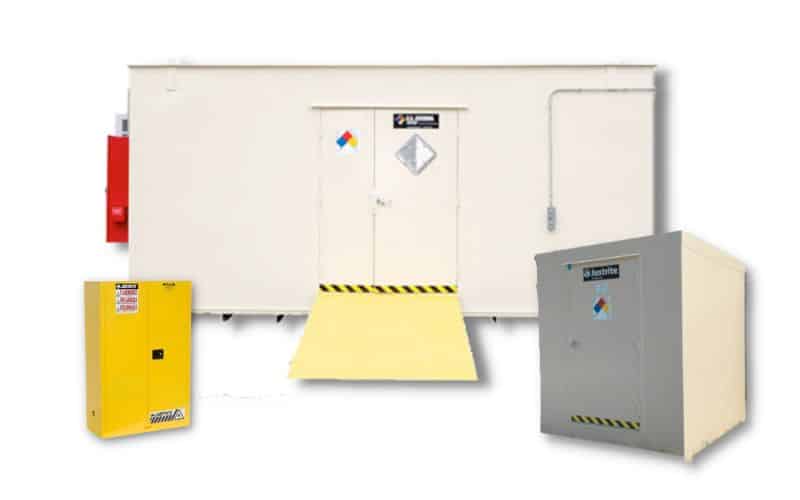 Let us start by clarifying if there's ever any doubt about your choice of chemical storage solution, ask your Authority Having Jurisdiction (AHJ.) They will likely consider the volume, the placement, and other hazards. We are NOT your local AHJ, so the suggestions here are broad generalizations to get you started in the right place. Ultimately, they may dictate the right chemical solution: cabinets, lockers or buildings. Your AHJ is always the authority in your specific area for safe chemical storage.
If the volume is of a few gallons, needs no additional options, and will be stored inside, a flammable storage
cabinet
will likely suffice. 
If your quantity is for more than 110 gallons in barrels or totes and don't need a lot of additional options, a
locker
may be the right choice.  
If you need outdoor storage, a
locker
or
a
building
is required. 
For large volume of more than 16 drums, pallets, or totes, and you need any additional option, you will order a chemical storage
building
. 
General Guidelines
U.S. Chemical Storage has built chemical storage buildings with chemical storage cabinets INSIDE. We ship the same customer both buildings or lockers. So, you see, Buildings, Lockers, and Cabinets often co-exist at the same facility site while serving different purposes. We often say that specialization is our specialty. We construct hundreds of structures every year based on the customer's needs and requirements.
This process does not need to be confusing. It is meant to keep your personnel, property, and the environment safe. Flammable liquids and hazardous materials can be extremely dangerous, and these codes and regulations were enacted to reduce injuries and fatalities. 
At the end of the day, what YOU call it isn't important. We have customers that use the terms "Lockers" and "Buildings" interchangeably, and that is fine. We have customers that call them "sheds," "houses," and "structures." Whatever YOU call them, our purpose and goal remain the same: to provide safe, code-compliant storage for your chemical and hazardous materials. 
A true consultative approach is important for storing flammable liquids and other hazardous materials. It's what we do at U.S. Chemical Storage every day. 
Simple Tips for Flammable and Combustible Liquid Storage Compliance
Check the chemical's Safety Data Sheet (SDS). This indicates which flammable class or category your chemical fall into.
Determine the chemical volumes required on site.
Decide on the location. What volume of chemical do you need inside the facility? How far away could you practically locate a bulk storage area?
Always use an FM- or UL-approved safety cabinet or chemical storage building. This ensures that the cabinet or building meets the regulatory requirements.
Regularly inspect cabinets and storage buildings to ensure they are in good condition and are being used as per design.
FAQs for Flammable and Combustible Liquid Storage Compliance
Check the chemical's Safety Data Sheet (SDS). This indicates which flammable class or category your chemical falls into. The NFPA classifies chemicals based on their physical and chemical properties – namely flashpoint and boiling point. The more flammable a chemical is, the higher the restriction on its use and storage.
Determine the chemical volumes you require on-site. In addition to volume, weight may be a consideration. Is mixing, dispensing, laboratory space, or other personnel occupancy part of the building's use?
Decide on the location. What volume of chemicals do you need for immediate use inside the facility? How far away could you locate a bulk storage area while still efficiently serving your operational needs?
Take the above information to discuss with your Authority Having Jurisdiction (AHJ). They are your local county or municipal authority, and they are the gatekeepers. They may be a fire marshal, code official, environmental officer, or other governmental official. Ask them which storage method you should utilize. The earlier you do this in the planning process, the better.
Once installed and in-use, regularly inspect cabinets, storage buildings, lockers to ensure they are in good condition and are being used as per design. That includes the roof, the sump floor, and the underside of the building to look for corrosion or damage.

HELPFUL TABLES and CODES your AHJ may reference: 

Codes which may be relevant to Chemical Cabinets: 
NFPA 30, 9.5.3(2) 
NFPA 30, 9.7 
OSHA 29 CFR 1910.106 
NFPA 704 classification system gives guidance to cabinet colors 
EN cabinets: EN 14470-1 and EN 14727 standards 
Codes which may be relevant to Chemical Storage Lockers and Chemical Storage Buildings: 
NFPA 30, 14 
FM-approval Class 6049 
NFPA 70 
NFPA 1 
EPA 40 CFR 264.175 
NFPA 251-1969 
OSHA 29 CFR 1910.106 
IBC chapters 50 thru 67 
FM approval Class 6049 
UL approval for all electrical options 
OTHER READING:
NFPA "Fires by Occupancy or Property Type" interactive tool 2015-2019
https://www.nfpa.org/News-and-Research/Data-research-and-tools/US-Fire-Problem/Fires-by-occupancy-or-property-type
NFPA – "Fires Starting with Flammable Gas or Flammable or Combustible Liquid" Hall Feb 2014
https://www.nfpa.org/-/media/Files/News-and-Research/Fire-statistics-and-reports/US-Fire-Problem/Fire-causes/osfiresstartinggas.ashx
References