Built-in spill containment is one of the key features that differentiate chemical storage buildings from other types of storage buildings. Chemical storage buildings that house liquid flammable chemicals and other hazardous materials must have a liquid-tight containment sump built into the floor. Sumps weren't a code requirement for chemicals prior to the mid-1980s. Chemicals were usually contained by a continuously-poured concrete floor with a curb that resembled a shallow, empty pool. It was difficult to pour and was impossible to relocate. The other method was is a continuously-welded steel plate for sump walls and floor. This steel solution then became incorporated into a building so other features like climate control, ventilation, and fire suppression could further enhance the safety of the chemicals being stored.
Why Is Chemical Spill Containment Necessary?
Sumps in chemical storage buildings prevent chemicals from escaping the building. Chemical spills contaminate the environment. Flammable chemicals may ignite. Fire suppression systems may douse a fire inside the chemical storage building. But, fires outside the building could also cause serious damage and injury to people and property.
How Big Must the Containment Sump Be?
The short answer is, "it depends." There are several recommendations based on what you are storing, how much you're storing, and what sort of fire suppression system you will be utilizing. Below are some of the codes and standards we can help you consider during the process of designing your building:
The OSHA standard for flammable liquids requires a 4-inch deep sump when a fire sprinkler system is present. But, not all chemical storage buildings contain flammable chemicals.
EPA 40 CFR 264 regulates hazardous waste treatment, storage, and disposal. Section 175 covers containment. It specifies a containment sump must be large enough to contain 10 percent of all the containers in the building.
NFPA 30 is a fire code covering the requirements for flammable and combustible liquids. This standard dedicates a chapter to factory-produced steel chemical hazardous buildings.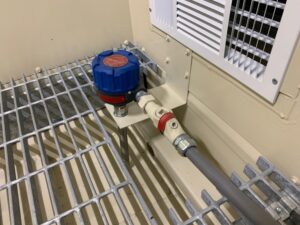 Because there are so many standards and codes, manufacturers look for outside authorities.
Factory Mutual (FM)
is a qualified third-party certification authority with a basis in the insurance industry that introduced some additional suggested requirements: a sump size equal to 25 percent of the total stored volume or being able to contain the volume of the largest container; whichever amount is greater.
IFC
, the International Fire Council, requires that a sump be able to contain 20 minutes of deluge water from the sprinklers, plus the volume of the largest container.
Confused yet? Don't be.
When designing spill containment for a chemical storage building, we consider the following factors:
Any storage containers placed on the floor will take up spill containment space. That is why code-compliant chemical storage buildings have elevated floors over the containment sump.
Sump floors can be designed with a slope to allow chemical spills to flow to a low point or channel out of the building for ease of cleaning. When calculating the sump capacity, we always take the effect of the slope on the containment volume into account. A slope will also allow a liquid level detector to more quickly alert key personnel when a leak is occurring.
Chemical storage buildings with water-based fire suppression systems may be required to accommodate a 20 or 30-minute deluge of water in their sump, or be placed high enough to account for 'freeboard.' Freeboard is the height above base flood elevation that a structure's floor must be placed. Many chemicals float on water and will overflow from the sump first as the water level rises. Depending on the code in your area, a very deep sump may be required to meet this requirement, another type of fire suppression system might be chosen, or you may have to place the entire building on a built-up pad to comply with local regulations or insurance requirements.
What does your AHJ say? The Authority Having Jurisdiction should be contacted early in the process to see what local codes and requirements they are most concerned with. We look at the main codes mentioned above, but there may be municipal codes unique to your area that we are not aware of.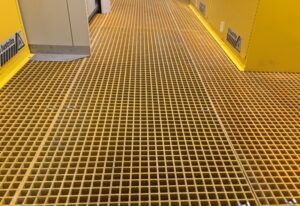 U.S. Chemical Storage Buildings Feature Spill Containment Sumps
All U.S. Chemical Storage buildings provide
built-in containment sumps
. Minimum sump designs for our chemical storage buildings usually feature a 6-inch sump, but every building and every building's sump is unique. And yes, we even create buildings without any sumps at all depending on the hazard being stored within. U.S. Chemical Storage tests every building containment sump overnight to check for any possible leaks. A water-tight sump is the only kind that leaves our factory floor. Sumps can also be specified with high-density polyethylene (HDPE) liners to contain leaks of corrosive materials within the sump without damaging the integrity of the building. Galvanized steel 1-inch floor grating above the sump has a load rating of 250 lb. psf. However, different raised-floor options are available, including fiberglass grid for corrosive, T-bar fiberglass with a non-slip surface, and custom solutions as required.
Contact U.S. Chemical Storage for Your Chemical Storage Needs
U.S. Chemical Storage has
over 20 years of experience
in hazmat storage solutions for a variety of industries. For proper code compliance, include secondary containment sumps for safe and secure chemical storage. Contact us today to
request a quote
.