What is a Lithium-ion Battery?
Lithium ion batteries are the most used rechargeable batteries in the world today. The high energy density of lithium ions enables a compact battery to pack a lot of power, while their ability to handle a high number of cycles makes them suitable for recharging. Lithium ions settle on the positive electrode in a fully discharged state, move to the negative electrode during charging and then slowly migrate back as the battery is being used. Although lithium ion batteries have become common place in many types of electronic equipment, there are risks with this technology that can result in fires and explosions. In 2016, multiple fires from lithium ion batteries in Samsung Galaxy Note 7 phones eventually resulted in a complete recall of the product.
Applications for Lithium-ion Batteries
Most consumer electronics including cell phones, tablets, laptops, and video cameras contain lithium ion rechargeable batteries. Power tools used in most workshops and construction companies use these batteries and are often stored with spare batteries for use during a working day. In addition to common goods, lithium ion is also used in solar installations where energy is stored during the day for use at night. New generation electric cars – like the Tesla brand — use specially developed lithium ion batteries.
Effect of Temperature on Lithium-ion Batteries
All batteries experience a loss in performance at low temperatures. The ideal storage temperature for most batteries, including lithium-ion, is 59°F (15°C). Temperatures dipping down at or close to 32°F (0°C) cause a slow-down in the chemical reactions inside of the cell—resulting in a loss in capacity of the battery. When users put a battery under heavy load at cold temperatures it can cause a phenomenon known as cell reversal. This is a common cause of failure in cordless power tools. Users who need their lithium ion batteries to function in cold climates should be aware of these temperature effects on batteries. Store them in a safe, temperature-controlled space during the winter months.
Internal Safety Mechanisms for Lithium-ion Battery Packs
Because several applications use battery packs, which are a combination of individual cells, manufacturers have built the following safety measures into the packs to minimize safety incidents:
Temperature sensors monitor the temperature of the cell
Voltage regulators monitor and control the output of each cell
Sensors measure and report the actual battery charge percentage
Separators prevent a runaway temperature moving from one cell to the next
Considerations for Lithium-ion Storage
The ideal storage temperature for most batteries can typically only be achieved with climate-controlled storage buildings designed to keep a consistent internal temperature regardless of changes in weather. Failing to adhere to the recommended storage temperature can permanently damage the capacity of lithium ion batteries.
For example, a battery stored at 104°F (40°C) for 1-year will only retain 85% of its original capacity, while a battery stored at 77°F (25°C) will retain 96% of its capacity. It is also important to store batteries at the optimum charge level of 40%. Storing lithium ion batteries fully charged accelerates the loss of capacity. A fully charged battery stored at 104°F (40°C) will lose 35% of its capacity in only 3 months. One of the greatest risks for lithium-ion batteries is physical damage to the battery itself. Damage can cause a short between the anode and cathode, leading to a spike in current at that point in the cell. As a result, the battery's temperature increases, which can lead to a thermal runaway – also known as a fire. If a lithium battery pack does catch fire, it can be extinguished with foam, CO2, or dry chemical fire extinguishers; water may cause further damage. Because fires can spread from one cell to the next in a lithium ion battery and this transfer may take some time to manifest, it is vital that the burnt battery be isolated for some time to alleviate further fire risk.
Lithium-ion Battery Storage In-Use Case Study
ATC New Technologies, a company specializing in high-voltages battery packs for the auto industry contacted U.S. Chemical Storage to create a lithium-ion battery storage building with custom dimensions. ATC focuses on remanufacturing, repair, and refurbishment of NiMh and Lithium Ion batteries and components.
ATC NT's Needs
ATC NT required an industrial chemical storage building in which their team could safely rebuild, and repair used batteries. The second-life company requested a lithium battery storage building that had dimensions of 30-feet long and 10-feet wide, in order to meet their storage capacity requirements. The quantity of lithium batteries and lithium battery parts being stored varied as well as the size of lithium batteries and lithium battery packs. In order for ATC NT's operations to run smoothly, the battery components also needed to be held at optimum storage temperature. Therefore, a
cooling system
was necessary to keep their storage facility safe and compliant.
The Solution
To meet their space needs and keep ATC NT compliant with all applicable regulations, our team recommended a
DrumLoc™ building
with
climate control options
. Designed for industrial use and constructed to exceed all EPA, OSHA, NFPA regulations, while meeting all FM Approval and Warnock Hersey standards, it was outfitted to keep lithium-ion batteries at a safe temperature for as long as they required storage.
Customized to Their Requirements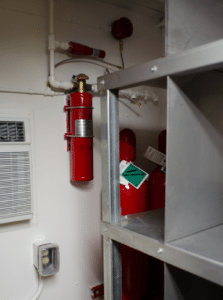 A cooling system was installed to maintain a temperature below 80°F, to keep the batteries stable. ATC NT also requested
interior shelving
,
explosion proof electrical accessories
,
lighting
, insulation and a panic
exit door
for increased safety. For maximum safety, a clean agent FM 200
fire suppression device
was installed in case a fire hazard occurred inside the building. In addition to safety and temperature stabilization precautions, worktables were installed inside the DrumLoc building. The stable tables make a convenient workspace when rebuilding and repairing batteries on-site. In conclusion, our team at U.S. Chemical Storage was able to design a state-of-the-art lithium battery storage facility, while incorporating the strongest and most reliable lab equipment and accessories custom-built for ATC NT's operations.
Contact Us
Contact U.S. Chemical Storage to learn more about
storage buildings for lithium batteries
or to receive a
complimentary quote
. Our dedicated and experienced engineers are devoted to helping you design a lithium-ion storage building that suits your needs while maintaining the safest environment for your personnel. With a strict focus on compliance, you can rest assured that your new storage building will meet federal, state, and local safety standards. Already have an idea of what you're looking for in your lithium-ion storage building? Check out our innovative chemical storage building configurator to start designing your perfect storage solution.
Standards associated with lithium-ion batteries
UN/DOT 38.3 standard for shipping lithium batteries IEC/EN 62133 standard for international compliance for rechargeable cells and battery safety.
References