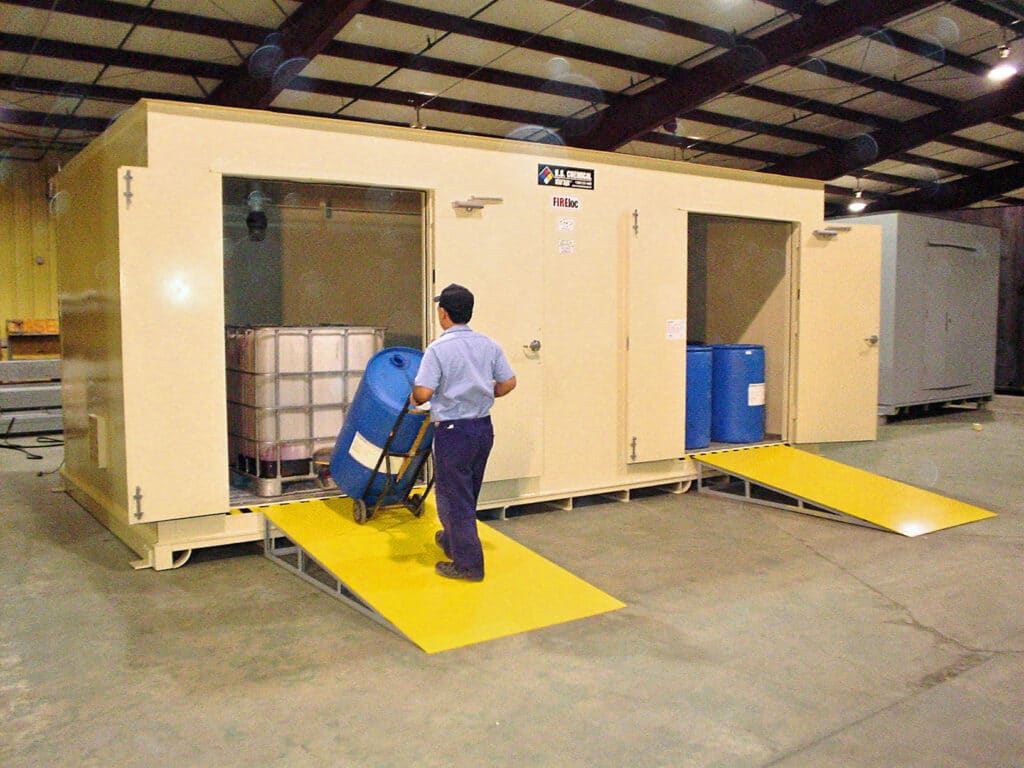 No matter the industry, compliance with government guidelines, codes and regulations plays a key role. For example, all new cars sold in this country must pass crash tests. This is to keep people as safe as possible. Compliance is also important when storing liquid chemicals that are known to be flammable and combustible. Fires and explosions in the workplace can lead to widespread property destruction in addition to collateral damage to nearby residences. The excuses of non-compliant companies in these situations fall on the ears of unsympathetic judges and juries. They may face steep financial penalties as well as lawsuits, audits and even potential prison time. Many companies are unable to survive such an economic hardship. Because accidents can happen when storing hazardous chemicals, maintaining chemical storage building compliance is essential to a company's success and sustainability. But how do you know if your storage is compliant? Using a
chemical storage building
may be the answer.
Chemical Storage Building Compliance – What You Need to Know
When considering a hazmat storage building, it's important to understand most codes and
regulations
are set to minimum standards. Here are some other factors to keep in mind:
Hazmat storage buildings must be strong – steel or concrete is best.
Buildings need ventilation to remove fumes from any spilled chemical, with up to five air changes per hour.
The floor should utilize a minimum catch under sill across door openings and slope to a low point, whereby it may be drained outside via a closed and secured valve.
Use intrinsically safe equipment. This means any electrical appliance and wiring systems shouldn't be a source of ignition or create a situation where vapors could ignite by hot surfaces.
The location of a hazmat storage building determines if it requires fire-rated construction or not.
Fire suppression is needed when the building is close to other structures.
Consider alarm and detection systems for fires, spills, ventilator malfunction, and intrusion security. These can be installed, connected to, and monitored by a central station on site with direct communication to the closest local fire station.
Let your chemical engineers decide whether you need explosion relief options or not, based on their own experience with the chemicals you regularly use. If so, install explosion relief panels on a wall with a 50-ft open space behind it.
Do I Need a Compliant Chemical Storage Building?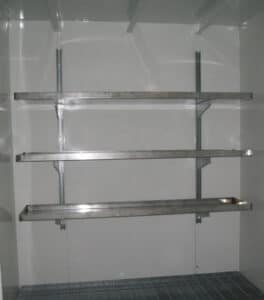 Choosing a chemical storage solution should not be taken lightly. For larger companies, this role falls to a compliance officer well-versed in the rules and regulations of your industry. Small business owners may not have the funds or the need to hire a full-time compliance officer but can contract with one who offers hourly consulting services. If you have registered your business entity in any state, you are required, at a minimum, to maintain a registered agent who should be available at the business address during regular hours. Usually, this officer is someone in an environmental, health, safety or engineering role. Remember, chemical storage does create risks. A compliance officer will ensure best practices are implemented and maintained to prevent accidents. If certain incompatible chemicals contact each other, a fire or explosion could occur. Improper segregation, such as storing chemicals in alphabetical order, is often the culprit. Instead, chemicals should be separated and stored according to their hazard classes. Use shelves or racks to ensure proper organization.
Ventilation
for compliant chemical storage is also important. Some chemicals give off flammable vapors that, if contacted by an ignition source, may start a fire. Other chemical reactions may release toxic vapors capable of overcoming workers. Even non-hazardous vapors may be harmful if in a great enough volume to displace the oxygen.
U.S. Chemical Storage Provides Regulation Compliant Chemical Storage Buildings
It's difficult to keep up with all the codes and regulations when it comes to chemical storage. Your compliance officer should know the basics, but since codes vary between federal, state and local authorities, it's important to know what the requirements are, before you begin storing chemicals. This is where
U.S. Chemical Storage
can help. As a leading designer and manufacturer of steel chemical storage buildings, we'll work with you to ensure compliance with applicable regulatory requirements to provide a solution customized to your unique storage needs. In most cases, prefabricated construction offers substantial cost savings over permanent site-built construction. All our buildings are 100% customizable and relocatable, providing you permanent storage in a movable package.
Contact us
today for a free quote. Already have an idea of the type of building you need? Get started with our easy-to-use
chemical storage building configurator
.
Configure Your Storage Building
Article written by Fred W. Romig, Consultant for Chemical Storage Building Compliance
Fred Romig serves as a hazmat consultant with U.S. Chemical Storage. His experience in the industry spans several decades, though, as he made a name for himself by developing hazmat storage buildings with unique features that customers wanted, but no other company provided. By defining best practices in the design, manufacturing and on-site installation of chemical storage buildings, as well as introducing a consultative sales approach that provided customers with peace of mind through the entire process, Fred was an instrumental cog to the company's success.
Want to learn more? Check out Fred's free on-demand webinar "Hazardous Materials: Is Your Chemical Storage Solution Compliant?" on Safeopedia.