What Are Powdered Metals?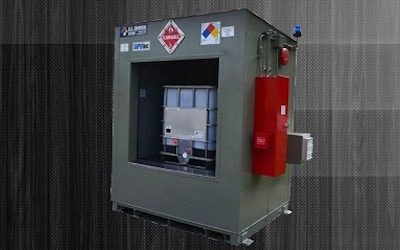 Powdered metals are complex materials and should be handled with care and should include adequate powdered metal storage. Some powders may be flammable and combustible, while others, relatively harmless. So, what makes one metal powder more dangerous than another? Our team helps break down what powdered metals are, how they're dangerous, and why our buildings are a perfect solution.
What are Powdered Metals?
Powdered metals are metals that have been milled or manufactured as fine particles for further processing. Powder metallurgy, which forms the basis for our current powdered metal processes has been around since the 1940s and consists of three basic phases:
Blending or pulverization
Compaction
Sintering
Powders from the following alloyed metals are some of the most common types of powdered metals used in manufacturing: aluminum, iron, copper, magnesium, cobalt, nickel and stainless steel. Though, most industrial parts are made up of a base that is mostly iron and steel, other alloyed metals can be added to improve function, reduce weight, and create a custom surface finish.
What are the Applications for Powdered Metals?
Powdered metals are often utilized to create powdered metal (PM) parts. PM parts are compressed into their final shape instead of cast, which is formed from liquid metal, or forged which is heated metal. Compressing powdered metal is one of the most common manufacturing processes and allows the user to create more complex parts at a lower price than machining or casting. The PM parts manufacturing process also has an added benefit of creating less waste because it is an additive process and not a subtractive. Powdered metals can be found in many industries. For example, the chemicals sector uses metal powder as an additive for resins and paints to give an attractive metallic appearance to a finished product while the aerospace industries use PM parts as heat shields for spacecraft, gas filters, and electrical contacts. You can also find powdered metals in:
Printing
Surface coatings
Welding
And more…
As science, engineering, and manufacturing processes continue to evolve, you can expect to see more advanced applications for powdered metals, PM parts, and additive processes.
Dangers of Storing Powdered Metals Improperly
Metal powders must be handled with extreme care due to the hazards associated with these products and their risk of contamination. One of the main hazards associated with powdered metals is fire. All alkali metals, such as lithium and potassium, are known to be flammable. Some metal powders are combustible in even the most standard atmospheric conditions. For example, aluminum, magnesium, sodium metal, and titanium can easily ignite under the right conditions. Sodium metal is flammable and can generate hydrogen gas which can spontaneously light on fire in the presence of acids and water.  Due to moisture in the air, finely powdered sodium metal should never be handled in the open – exposure to moisture can potentially cause dangerous fires. In addition to single reactive metals, you also must consider which metals will react with one another in storage. Reactive metal pairs will automatically react with one another when mixed and are most often not able to be extinguished until the reaction is complete. Aluminum and nickel is one such example. Care must be taken when storing these metal powders so that there is no chance of accidental mixing. The dust from metal powders is hazardous to inhale and can be an irritant to eyes and skin. When metal powders are not stored and handled in a controlled environment, metal dust can be generated that is detrimental to the health of employees.
Why it's Important
Metal powder can be spilled resulting in large losses and creating risks associated with cleaning up the material. The human body has limited capacity to process metals once ingested. Many metals are extremely adherent in powdered form so they're hard to wash off and will readily conduct static electricity. Because of their fine particle makeup, metal powders can present an explosion hazard when suspended in air. The U.S. Chemical Safety and Hazard Investigation Board (CSB) identified 281 combustible dust incidents between 1980 and 2005 that led to the deaths of 119 workers, injured 718, and extensively damaged numerous industrial facilities. In 2014, a Woburn 3-D printing company called Powderpart was cited by OSHA after an employee was injured in an explosion and fire. Investigations showed that a vacuum cleaner was used to clean up metal powder, which ignited due to a buildup of static energy. The employee suffered 3rd degree burns, and the company faced fines of up to $64,000 as a result of this incident and associated investigation.
Storage Solutions for Metal Powders
A key document in the handling and storage of metal powders is the Safety Data Sheet (SDS) that accompanies each hazardous product—including powdered metals. The SDS highlights the physical and chemical characteristics of the product, hazards, applicable precautions, and other recommendations. U.S. Chemical Storage offers custom chemical storage buildings for storing powdered metals that can be designed according to regulatory standards. Depending on the intended storage location,
fire rated buildings
may be ideal. We supply 2-hour and 4-hour fire-rated units, available in widths of 6, 8, 10 and 12 feet, and lengths of 6 to 52 feet – although larger and custom sizes are also available. Our buildings can have safety attributes to meet the requirements for your specific powdered metal storage needs. Our team can also add critical earthing requirements to meet electrical standards and prevent the buildup of static electricity and other ignition sources. Other optional accessories include
racks and shelving
and
fire suppression systems
. Standards associated with combustible metals include:
NFPA 484 Standard for Combustible Metals, Metal Powders and Metal Dusts
NFPA 654 Standard for the Prevention of Fires and Dust Explosions from the Manufacturing, Processing, and Handling of Combustible Particulate Solids
OSHA 3371 Hazard Communication Guidance for Combustible Dusts
Let U.S. Chemical Storage Engineer Your Powdered Metals Storage Solution Today
Contact U.S. Chemical Storage to learn more about choosing the proper chemical storage building that fits your needs. Our professional consultants help you find the best solution for your application. We provide
complimentary quotes
for solutions that meet the regulatory requirements. References:
Engineering 360
. Metal Powders Information Australian Metal Powders Supplies. What metal powders are used for Additive Manufacturing. Changing the rules