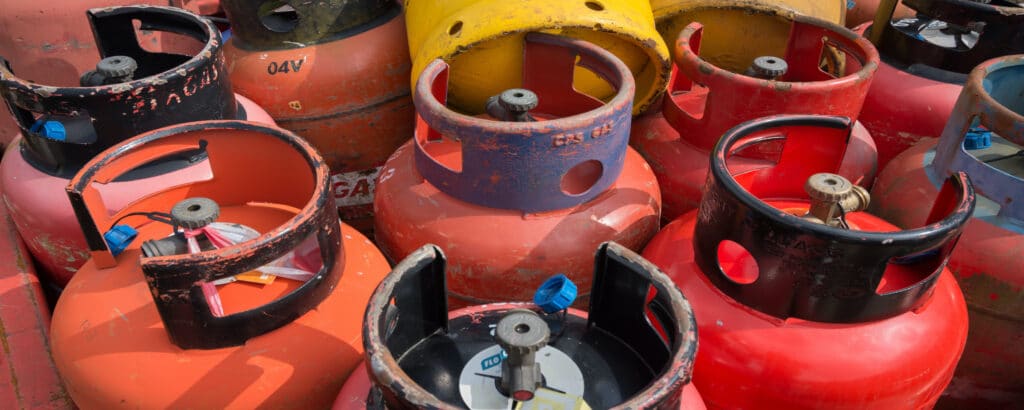 Compressed Gas Usage and Proper Storage Techniques
Gas cylinders are routinely used in a wide variety of applications including university laboratories, marine terminals, construction operations, oxy-fuel welding, medical procedures and oil and lubricant manufacturing. Gas cylinder storage buildings offer compliant chemical storage solutions for flammable, corrosive and combustible substances.
Common types of gas stored in compressed cylinders are liquified gases (examples: propane, carbon dioxide, anhydrous ammonia), non-liquefied gases (examples: hydrogen, nitrogen, oxygen), and dissolved gases (example: acetylene). If not properly handled and contained, compressed and liquefied gases can cause hazardous or even fatal working environments.
Compressed gas cylinders are dangerous because of both the chemical contents, as well as the physical hazard caused by the high pressure. According to OSHA, "Hazards associated with compressed gases include oxygen displacement, fires, explosions, and toxic gas exposures, as well as the physical hazards associated with high pressure systems. Special storage, use, and handling precautions are necessary in order to control these hazards."
Compliant Solutions for Gas Cylinder Storage
Certain guidelines must be followed to keep workplaces safe when storing compressed gasses. Using a gas cylinder storage building to keep inventory free from moisture and temperature extremes is a good start. Engineered for durability and compliance, all our chemical storage buildings are fully customizable and can be constructed with fire-rated or non-fire rated construction. While customizable accessories vary by specific chemical inventory requirements, popular options for gas cylinder storage buildings include:
Other customizations and accessories include explosion relief panels, flooring options, forklift entry doors, roll-up doors, mechanical ventilation and more.
Gas Cylinder Storage Best Practices
Follow these tips to help minimize the risk of danger when handling, moving or storing compressed gas cylinders.
Check for leaks, dents, or damages on each gas cylinder before handling.
Ensure the valve cover is on properly.
Do not slide, roll, or drag gas cylinders.
Do not attempt to catch a falling gas cylinder.
Use a cylinder hand-truck for moving individual cylinders.
Store gas cylinders in an upright position with special gas cylinder storage racks.
Keep storage away from highly flammable materials.
Keep gas cylinders away from electrical connections and other sources of ignition.
Cylinders, full or empty, must comply with DOT and NFPA labeling requirements and OSHA hazard communication regulations.
Keep Safety Data Sheets (SDS) on hand for each chemical being stored.
Organize gas cylinders in separate groups: "FULL" or "EMPTY"
Gas pressure regulators should be inspected every 5 years.
Allow space for personnel or carts to be used for transporting gas cylinders in and out of your gas cylinder locker.
Caps must be on when not in use.
Utilize gas detector alarms for maximum safety.
Keep cylinders away from exit or entry doors.
Store only the required amount of cylinder storage.
Get Compliant and Stay Safe with U.S. Chemical Storage
All gas cylinder storage buildings are designed to meet EPA, OSHA and NFPA regulations and feature a 15-year structural warranty. Request a quote to find out how to make your gas cylinder storage building 100% compliant.