Rental Hazmat Storage Buildings
Temporary Hazmat Storage Solutions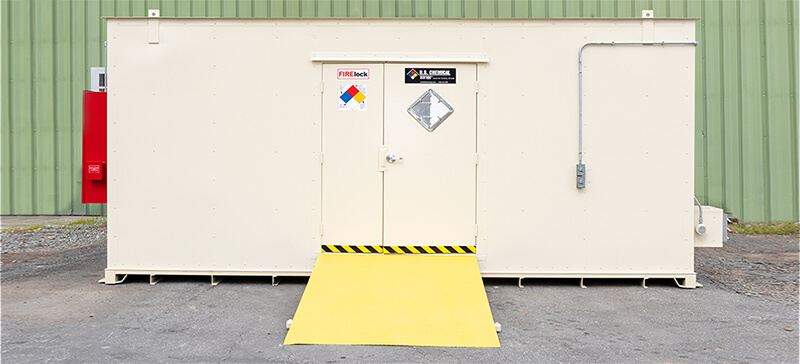 Certain projects, sites and budgets make renting a hazmat storage building the smart solution. Some projects, such as industrial renovations, construction sites, demolitions and more, may not require a permanent chemical storage solution. Other storage needs may be seasonal. If you need to temporarily store hazardous materials, have an immediate need for code-compliant storage, or have space or funding limitations, consider rental hazmat storage buildings from U.S. Chemical Storage. Convenient and affordable, many even use rental buildings as an immediate chemical storage option while waiting for the completion of a permanent storage solution.
Our standard rental hazmat storage buildings feature a 2-hour fire-rated design with components that provide compliant storage, mixing and dispensing of flammable chemicals. Short-term and long-term rental contracts are available; minimum rental period is 3 months. All rental buildings are new with the option of purchase. Limited customizations are also available. Contact us for pricing and specific details.
Common storage applications include, but are not limited to:
Flammable/combustible liquids
Hazmat and hazardous waste
Chemical drums, pallets or totes
Chemical mixing and dispensing
Corrosive chemicals
Compressed gas cylinders
Lithium batteries
Rental Hazmat Storage Buildings for Military or Government Applications
There are many military and government applications for rental buildings. Many times project funding can take three to five years for approval; but some mission-critical operations require immediate compliance. Rental buildings provide an affordable storage option until a permanent building can be funded and purchased. Whether used for maintenance, disaster relief, or in the short-term when code-compliance is mandated but funding is not yet approved, rental hazmat buildings provide an economical, temporary solution. Common applications include:
U.S. Air Force Maintenance, Repair and Operations
U.S. Navy and Coast Guard Dry Dock Vessel Maintenance
FEMA/National Guard Disaster Relief efforts
Contact us for pricing and specific details.
---
U.S. Chemical Storage Standard Rental Hazmat Building – Model FL2008
Exterior Dimensions: 19'10"L x 7'4"W x 9'9"H
Interior Dimensions: 18'0"L x 6'0"W x 7'6"H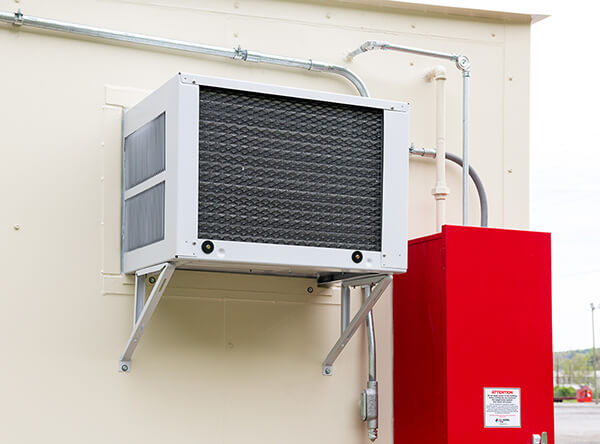 Air Conditioner and Fire Suppression System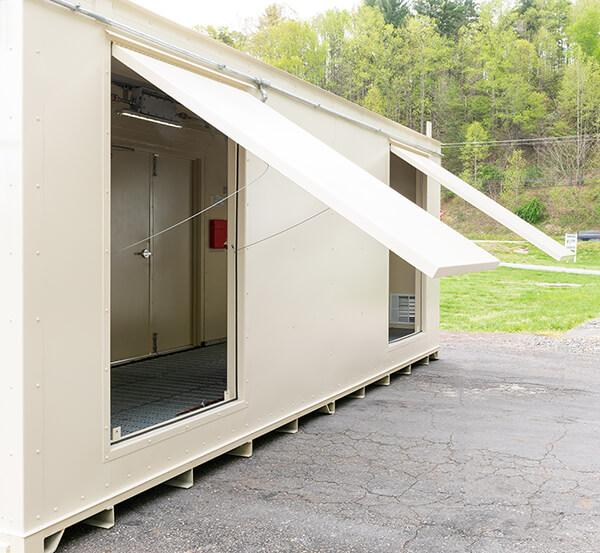 Explosion Relief Panels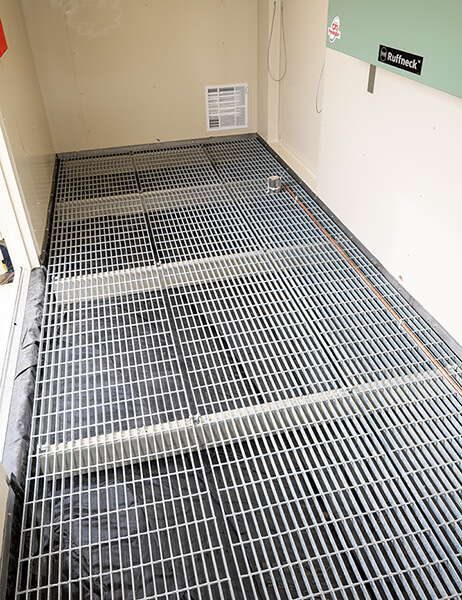 Spill Containment Sump
Included Components:
Double Leaf Door
Explosion Relief Panels
Sump Liner
Lifting Lugs
Electrical Panel
LED Strip Light
Insulation – floor and ceiling
Convection Heater
Air Conditioner
Exhaust Fan
Dry Chemical Fire Suppression