Do Your Best to Prepare for the Worst This Hurricane Season
The Union of Concerned Scientists recently wrote a short evaluation of the EPA's pertaining to the Risk Management Program (RMP). The RMP requires 12,000 chemical facilities to develop risk management plans to prepare for and prevent catastrophic disasters. Usually, they speak toward getting additional chemicals added to the list by the EPA or reducing the chemical volumes required to adhere to the RMP. However, inthis statement, the group also stressed that the RMP has failed to account for accelerating climate hazards, such as wildfires and hurricanes.
One such event was in Westlake, Louisiana, in 2020. Hurricane Laura – a category four hurricane – damaged buildings at a facility storing trichloroisocyanuric acid (TCCA). The TCCA reacted with rainwater from the storm, producing a fire that burned for three days with accompanying chlorine gas. Ten thousand people lived within one mile of the facility and faced exposure.
"More than ever, communities across the country are facing the realities of climate change and extreme weather, whether it's from prolonged drought, hazardous flooding, or widespread heatwaves," National Oceanic and Atmospheric Administration (NOAA) Administrator Rick Spinrad stated in a June 2023 press conference. "Since January, there have been a record-setting seven disasters that have totaled $1 billion or more each in damages, highlighting the profound economic and social impacts of more frequent and costly climate and extreme weather events."
NOAA Predicts 2023 Hurricane Season to Track on Trend
Hurricane season is from June 1 to November 30. NOAA is forecasting for the 2023 hurricane season a range of 12 to 17 total named storms (winds of 39 mph or higher). Of those, 5 to 9 could become hurricanes (winds of 74 mph or higher), including 1 to 4 major hurricanes (category 3, 4, or 5, with winds of 111 mph or higher). NOAA has a 70% confidence in these predictions. But remember, it only takes one hurricane to cause widespread devastation or disrupt facility production.
Tropical storms are 39 to 73mph. Hurricanes are 74mph or above. A category five hurricane (the highest) consists of storms with sustained winds of at least 157 mph. Of modern hurricanes – those in the last 30 years – Hurricane Andrew in 1992 made landfall with a peak of 165mph winds.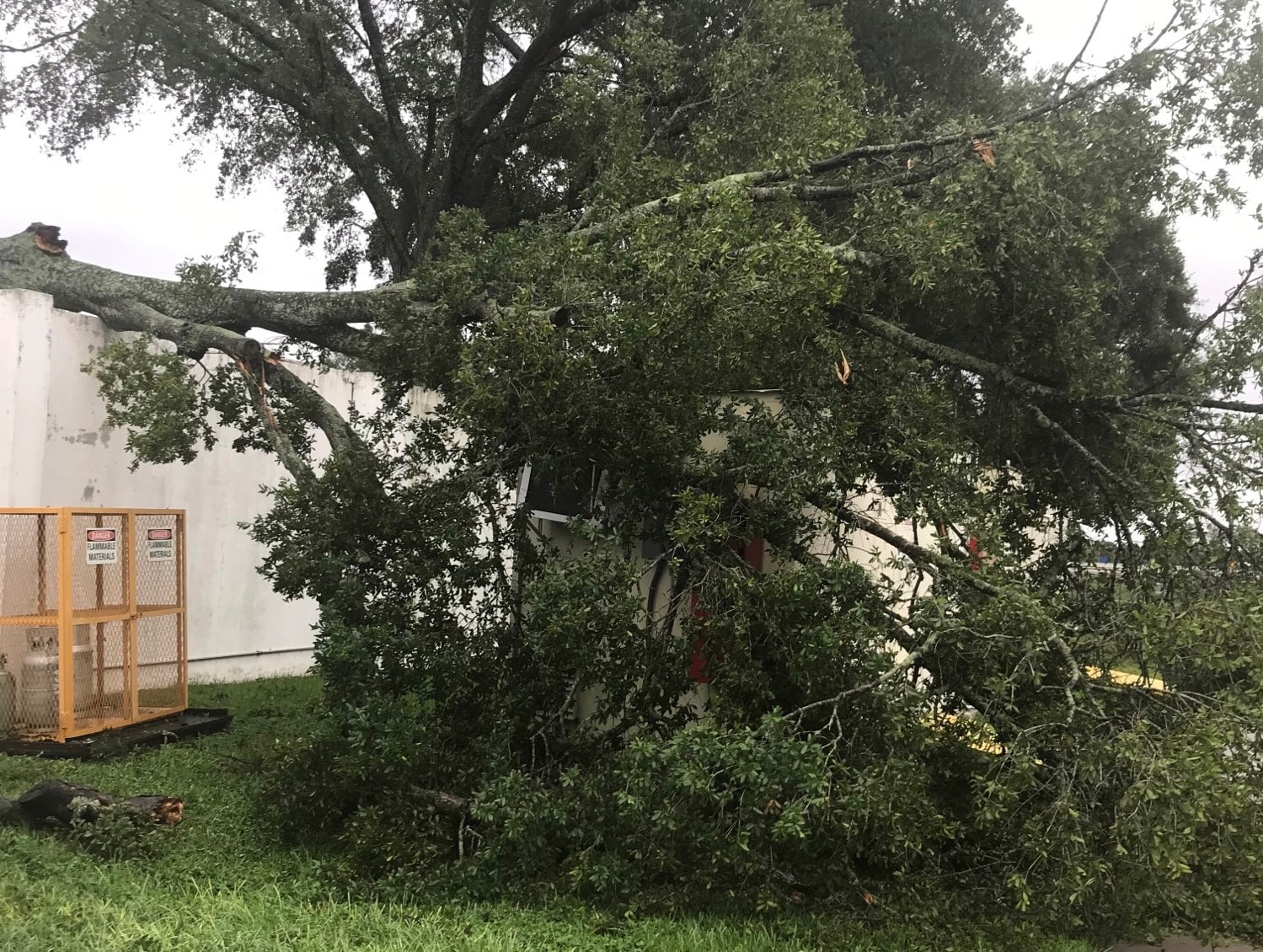 U.S. Chemical Storage Building Construction Stands Strong
U.S. Chemical Storage's 2-hour fire-rated FireLoc™ and 4-hour fire-rated SuperLoc™ flammable liquid storage buildings feature an innovative wall design and roof construction designed for a wind load of at least 120 mph per ASCE-7-10. That is a standard the American Society of Engineers put forth in conjunction with the American National Standards Institute (ANSI).
For buildings in Florida or other coastal locations, construction recommendations are for buildings rated for 150mph wind loads. U.S. Chemical Storage has produced buildings that withstand 165mph winds or more for coastal areas and high-hurricane targeted areas, which often have higher code requirements above the sandard.
U.S. Chemical Storage Building Weathers Hurricane Ian
A customer in Florida was utilizing two rental units from U.S. Chemical Storage for cleaning and degreasing products. Hurricane Ian was a category 5, and the damage was widespread as it traveled through the state. As you can see, the damage to our building was minimal from a fallen tree. Both buildings withstood the winds easily.
The tree did not damage the roof or wall structure, only the options of the A/C unit, fire suppression, and alarm horn. Since the unit was a rental, the customer sent the building back for repair, and we could provide them with a replacement building in a short turnaround as we made repairs to the previous unit.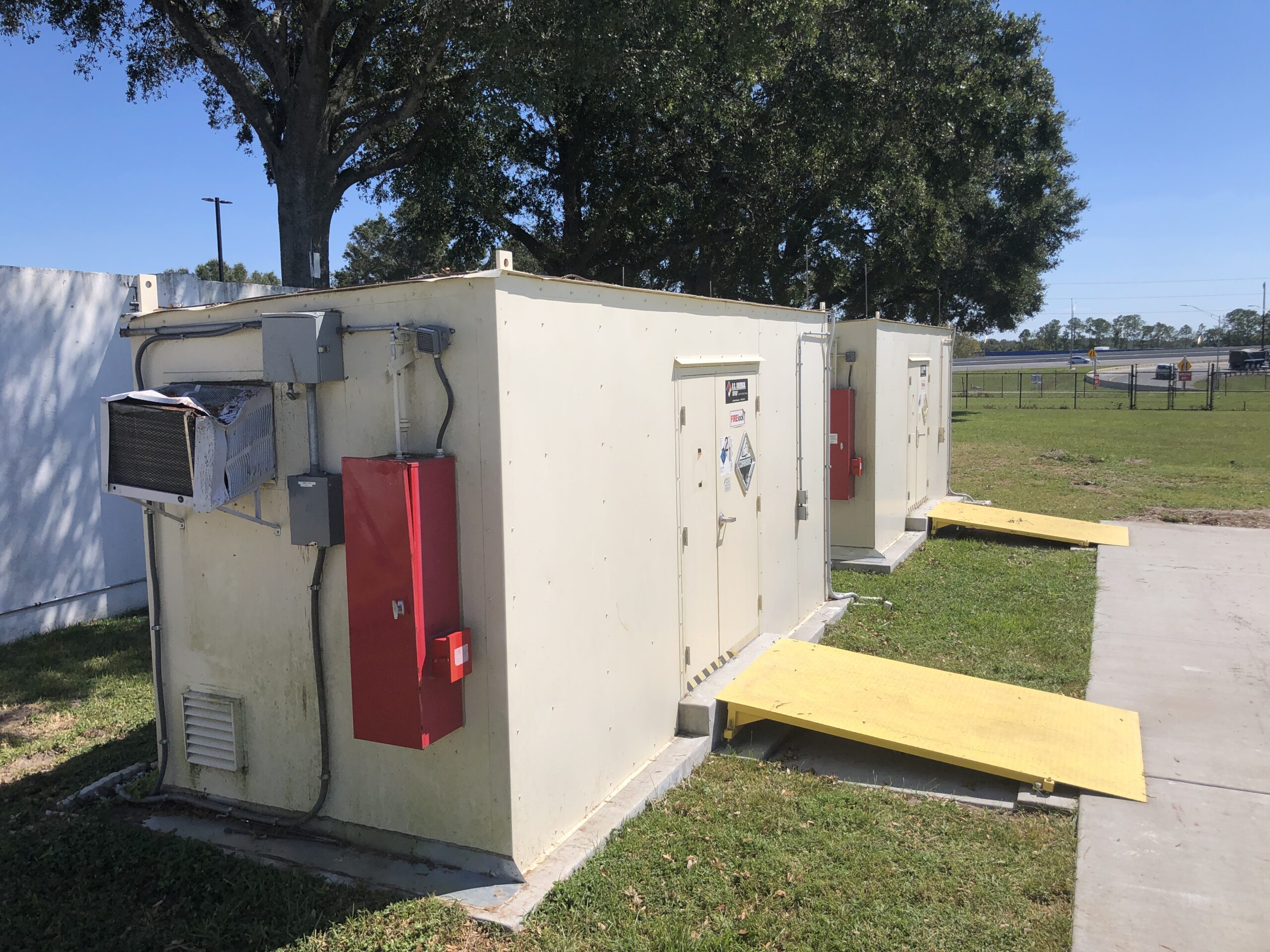 U.S. Chemical Storage takes safety seriously. Your facility's hazard and risk assessment AND action plans must include natural disasters of hurricanes and hurricane-force winds, storm surges, floods, wildfires, heatwaves, and snowstorms. The Westlake, LA, plant did an assessment. Still, the management needed to implement to address what to do in case of one of the potential weather events.
These risks are become more widespread and can not be ignored. Let us know the natural risks you're facing at your facility, and we can help create a safe, secure building design that can handle them. Protect your people, property, and the planet. Do your best to prepare for the worst with help from U.S. Chemical Storage.
FURTHER READING:
NOAA 2023 Atlantic Hurricane Season Outlook
Engineering News and Record: NOAA Funds Infrastructure Work New Coastal Resilience Grants