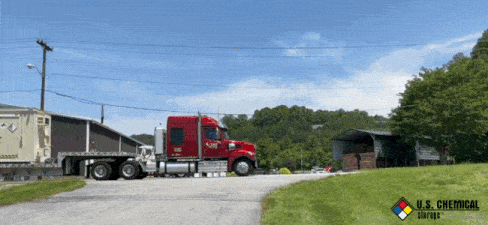 In-House Transport Coordination Saves You Time & Money
U.S. Chemical Storage can provide you with the ease and experience of our in-house transportation assistance service for shipping your chemical storage building from our location to your job site. This service can save you time, effort, and headaches in receiving your building and utilizing it quickly for a stress-free delivery.
What mistakes can our in-house transportation coordinator can help you avoid:
Can freight claims be handled quickly by a reputable carrier if something goes wrong?
Will they have efficient routes and experience with the permitting lead times necessary for various states?
Do they have experience with oversized or super loads that may be full of unique electrical systems and equipment?
Do they know the height limitations, weight compliance, number of escort vehicles, and other specialties?
What problems have we seen from customer-arranged freight carriers:
Arriving at our location with a trailer type woefully incompatible with the project, delaying your installation by days or even weeks.
Holding permits claiming it was okay for a building to hang off the back by 10 ft or more putting your investment at risk for damage.
Arriving without the proper equipment or experience to safely tie down loads, leads to dangerous situations on the road, which could result in fines or tragedy.
Significantly underestimating state permitting time, the trailers end up sitting in a parking lot with your investment for days or weeks on end.
Underestimating overall measurements based on the trailer type. An inch too wide or too tall can mean paying thousands of dollars more than is necessary for permits with additional costs of escorts, law enforcement escorts, or bucket trucks that were not initially planned for the project.
U.S. Chemical Storage has garnered a reputation as the leader in fully custom and high-quality code-compliant hazmat buildings. We like to work with transportation vendors that aspire to the same quality and professionalism. We can save you time by arranging shipment through vetted and certified carriers specializing in unique wide-load transport. We've worked with them all, so we know when a price is fair.
Our building isn't worth much if you can't use it due to poor planning, damage, and delays. We make it our business to know the heavy haulers with the right equipment who understand how to handle custom buildings from our factory to your destination. Coordination and communication is the key to satisfied customers. Allow the U.S. Chemical Storage in-house transport coordination team to remove some of your stress by arranging freight for you and your building today.