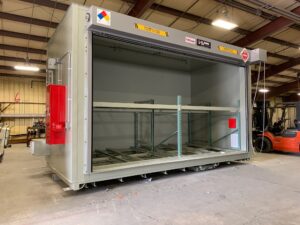 Located midway between Cleveland and Columbus, Iron Vault Distillery had an ethanol storage issue that needed a solution. This maker of small batch liquors, who described themselves as "small town distilled, with a small town style," wasn't so small anymore.
They were growing quickly and they required more space for their ethanol storage. Working with an outside design/build contractor, Iron Vault needed to expand into a code compliant flammable liquid storage building. They required a storage unit that could hold 4,500 gallons of palletized ethanol – a flammable liquid used in the making of alcoholic beverages.
Expert Tips for Safe Ethanol Storage
Unique Material-Handling Features Make a Big Difference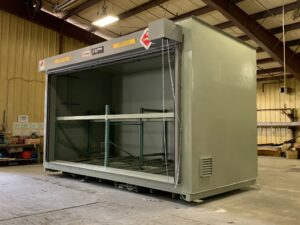 It was determined that a U.S. Chemical Storage SuperLoc TM building with a 4-hour fire rating would provide the best protection for nearby buildings. After evaluating the way they were handling the flammable liquid on site – as palletized drums accessed by a forklift – a two-tiered model with a roll up door was specified.
To have full access to all 16 pallets, the addition of push-back racking trays would allow full accessibility to pallets in the back to glide up to the front as inventory is used without the need for extra-long forks on the forklift.
Protect Your Microbrewery with Chemical Storage Buildings
Big Safety Within a Small Footprint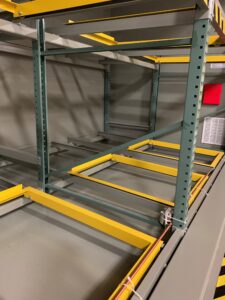 Restricting the size to a tight footprint was essential to the project. The building needed to fit within 275 square feet, and the final design filled an outside dimension area of 256 sqft. Safety features included a dry chemical fire suppression system and an alarm horn to sound when it deployed.
The building also included a C1-D1 explosion-proof mechanical vent with fire damper controlled by a general purpose vent switch to reduce the buildup of flammable vapors. A 533-gallon capacity on the secondary containment sump kept the end user within full compliance for the amount of drums being stored.
Solving Big Problems and Keeping Code Compliance
Overall, the project is an example of what U.S. Chemical Storage does every day. Our team determines the basics of the type of chemical being stored, how much of it they have to store, and where it needs to be located. Then we take it a step further and factor in the requirements to operate their day-to-day business in a safe, efficient manner to keep them productive and growing.
Have questions about our chemical storage buildings? Contact us today. One of our expert team members will get in touch shortly.