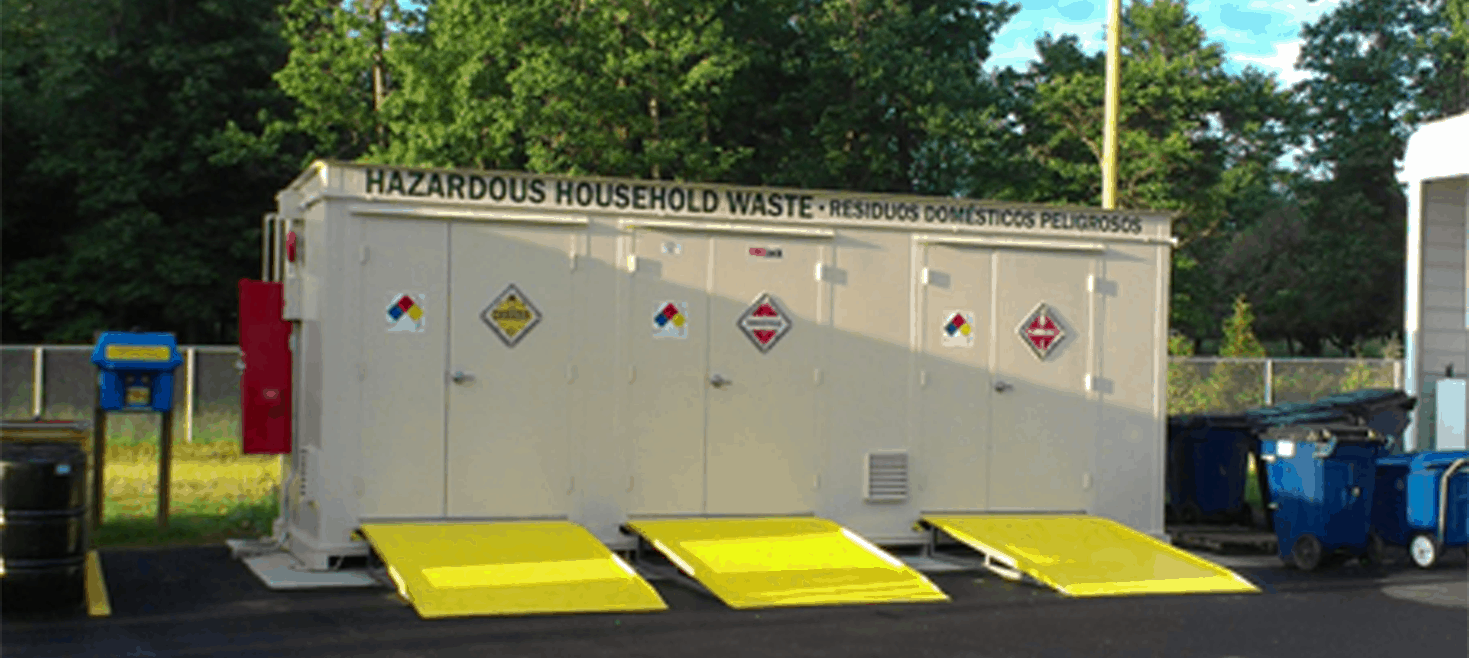 Highlands County Waste Management
Highlands County contracted U.S. Chemical Storage to build and design a 3-room Household Hazardous Waste Storage Building for the residents of Highlands County in Sebring, FL. Household Hazardous Waste Storage Buildings (HHW) are a great addition for residents seeking a safe and compliant area to dispose of hazardous materials.
These hazmat materials typically cannot be disposed of with regular trash pick-up. Therefore, without an HHW, it is nearly impossible to properly dispose of these chemicals and products, leaving residents housing dangerous substances in their homes and on their property. Not only do HHW's help keep housing and residential areas safer, but they also protect our landfills, environment, and local water and land resources from accidental spills, leaks and improper disposal.
Multi-room Chemical Storage
This chemical storage building provided segregated storage for incompatible materials, such as flammables, corrosives and poisons. Each room included shelving, exhaust fans, interior lights and a self-contained dry chemical fire suppression system that protected each room.
In addition to the features above, this chemical storage building also features a sump to catch dangerous chemical leaks. These chemical leaks can cause harm to the environment, including our landfills, water supply, soil, and wildlife. By bringing hazardous waste to an HHW, hazardous waste is contained and kept safe until specialized disposal is executed. After manufacturing was complete, U.S. Chemical Storage coordinated the delivery and of this building.
The HHW Building Advantage
Any county or municipality can greatly benefit from a permanent HHW building to provide compliant storage of hazardous wastes found around the homes of residents. The community members bring their aerosols, car batteries, pesticides and other items that are dangerous to the environment for storage until a predetermined pick up date by a licensed contractor is set. These buildings can be modified with components, such as fire suppression, gas detection and other safety focused items.
Ultimately, the county was extremely pleased with the outcome, delivery, and results of their HHW building. Read Christy C. Reed's message below:
"I am writing to thank you again for the professionalism, courtesy and promptness which you demonstrated during the purchase process of the new hazardous waste storage building. You filled in all the gaps to make sure that the County's investment was delivered safely and in a timely manner.


Deadlines were a key element to make sure that Highlands County successfully received the reimbursements. You graciously worked directly with the subcontractors to ensure timely preparation of the site which was exactly to specifications.
Finally, your availability by office and cell phone (even while you were on leave) speaks volumes of your commitment to U.S. Chemical Storages' customer service. It has been a pleasure working with you and your company."
— Christy C. Reed, Program Manager
Thinking for installing an HHW Building or another chemical storage building? Contact one of our experienced engineers today to learn more about our industry-leading chemical storage buildings. To discover more cae studies like this one, check out our case studies page.
contact