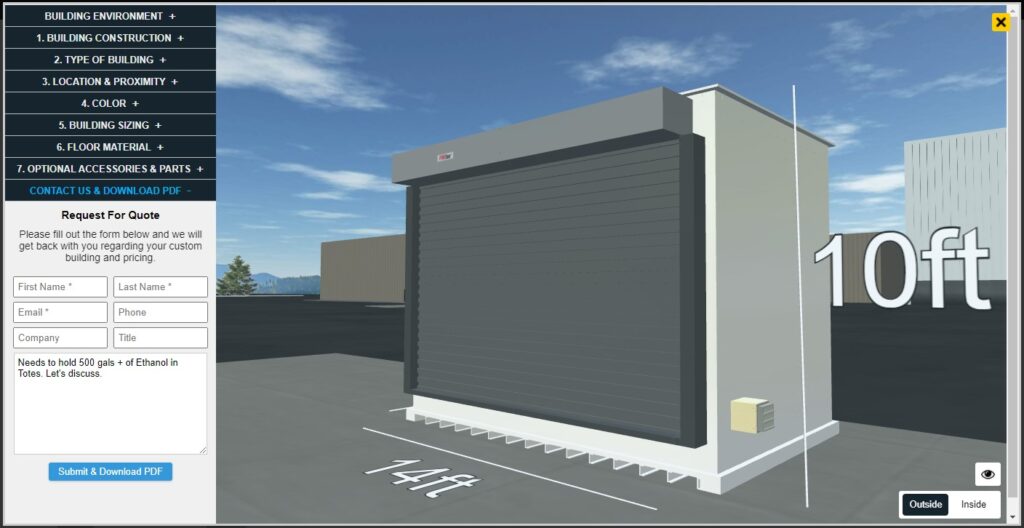 In 2019, White Buffalo Hemp Company—a producer of cannabis products located in Colorado—found their operations growing exponentially. To keep up with production needs, White Buffalo needed the capacity to store IBC totes carrying more than 500 gallons of ethanol on-site, a vital compound in the company's manufacturing process. This demand doubled White Buffalo's previous capacity of 240 gallons, reinforcing not only their need for optimized storage in limited space, but also the need for chemical storage that could stand up to rigorous safety standards without slowing down manufacturing.
White Buffalo Hemp Company challenged the team at U.S. Chemical Storage to find an efficient solution for their IBC tote storage needs.
Addressing Chemical Storage Needs
Every chemical storage project presents clearly defined storage requirements. White Buffalo's project not only required IBC storage containers for more than 500 gallons of ethanol, but the facility also required chemical access located near processing machinery while maintaining the safety of employees.
As an industrial producer of cannabis products, White Buffalo Hemp Co. relies on ethanol in daily production. Ethanol is an organic chemical compound used to extract cannabis from plant matter, which can be used in manufacturing. Ethanol requires careful handling and storage. Otherwise, it can spark a fire that not only leads to substantial property loss but also jeopardizes the lives of workers.
Ethanol is classified by the NFPA as a Class 1B Flammable Liquid. It is clear and colorless and must be stored properly due to its low flashpoint and flammable vapors. Safe ethanol handling and storage requires special equipment, including storage containers designed to withstand breaking down from the compounds housed inside of it.
In the case of White Buffalo Hemp Co., they utilized IBC tote storage to hold and dispense the flammable liquid while protecting the ethanol from the environment. If stored improperly, ethanol can release vapors into the atmosphere, creating the possibility of a disastrous fire outbreak with only a spark.
RELATED ARTICLE: EXPERT TIPS FROM U.S. CHEMICAL STORAGE FOR SAFE ETHANOL STORAGE.
Our Targeted Approach
To create an optimized solution for White Buffalo Hemp Company, our teams outlined key concerns that needed to be addressed for their IBC tote storage and chemical storage needs. The White Buffalo and U.S. Chemical Storage teams combined years of chemical storage compliance engineering experience and industrial hemp expertise.
Our engineers determined White Buffalo Hemp Company would be best served by utilizing a FireLoc™ flammable storage building at their facilities. White Buffalo not only needed to consider the safety of flammable liquid storage but also the location of this storage. Because of the frequency with which their team members would need to access chemicals, White Buffalo agreed to add a flammable liquid storage building at their facility.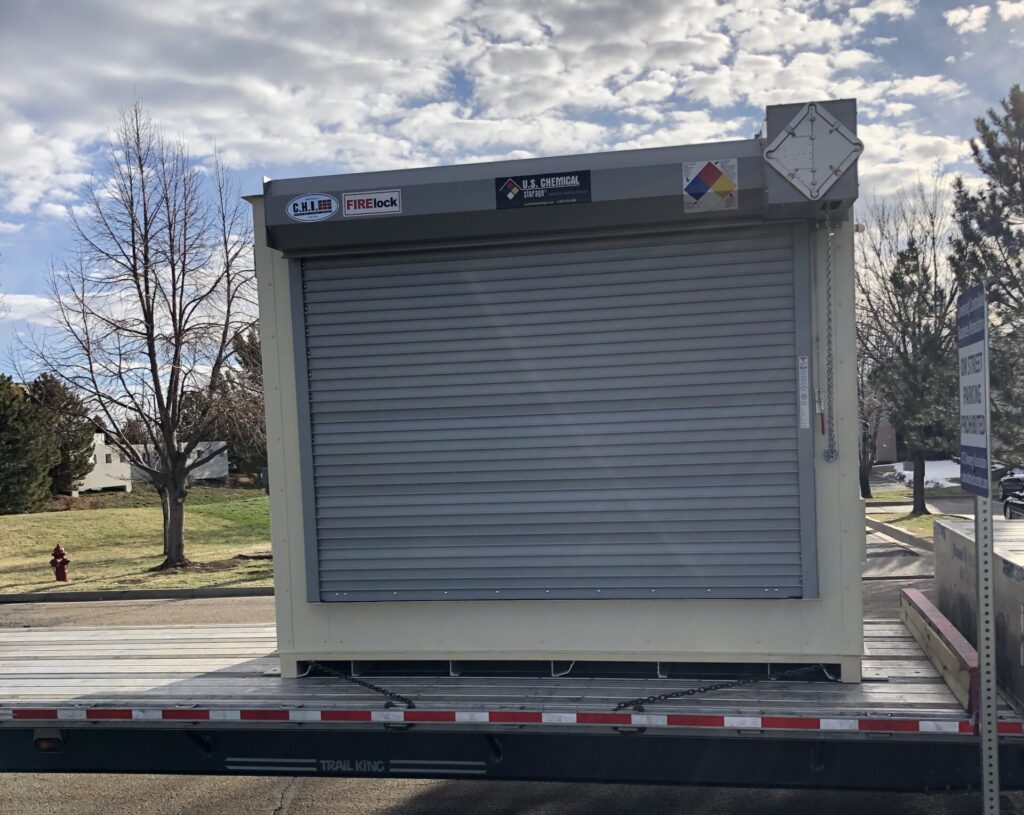 It was determined that a U.S. Chemical FireLoc™ storage building addressed the need to have flammable chemicals on hand while prioritizing employee safety. And, as an added bonus, White Buffalo's brand-new ethanol chemical storage building could be easily moved in the future if the company or operations relocated.
Their custom FireLoc™ came equipped with a large 4-hour fire-rated roll-up door to give employees full access to storage totes, while the 327-gallon capacity containment sump was designed to meet 40 CFR 264.175 code compliance. The final design for White Buffalo also included a 1-nozzle water sprinkler system and an explosion-proof C1-D1 mechanical vent with a high CFM (cubic feet per minute) exchange rate to prevent a build-up of potentially combustible fumes and fire.
Timeline & Results

Our process began in 2020 amidst the COVID-19 pandemic. Government shutdowns, supply chain and logistics strains, and health and safety concerns threatened to delay the building project. With an end-of-January order date, the client's project was due to ship mid-March, which happened to be the same time the initial pandemic halted operations worldwide.
As a nationwide manufacturer of vital code-compliant storage solutions across industries, U.S. Chemical Storage continued production as an essential business, all while following safety precautions set forth by the United States CDC. During this project, we adapted to changing safety procedures and met our manufacturing deadlines for providing White Buffalo with the safety equipment they needed to continue their operations.
Upon delivery and installation, Rob, a General Manager at White Buffalo Hemp Company, expressed his gratitude, saying, "I want to thank you and your team for getting this to us. It was a streamlined process, and I am pleased with how well everything was coordinated."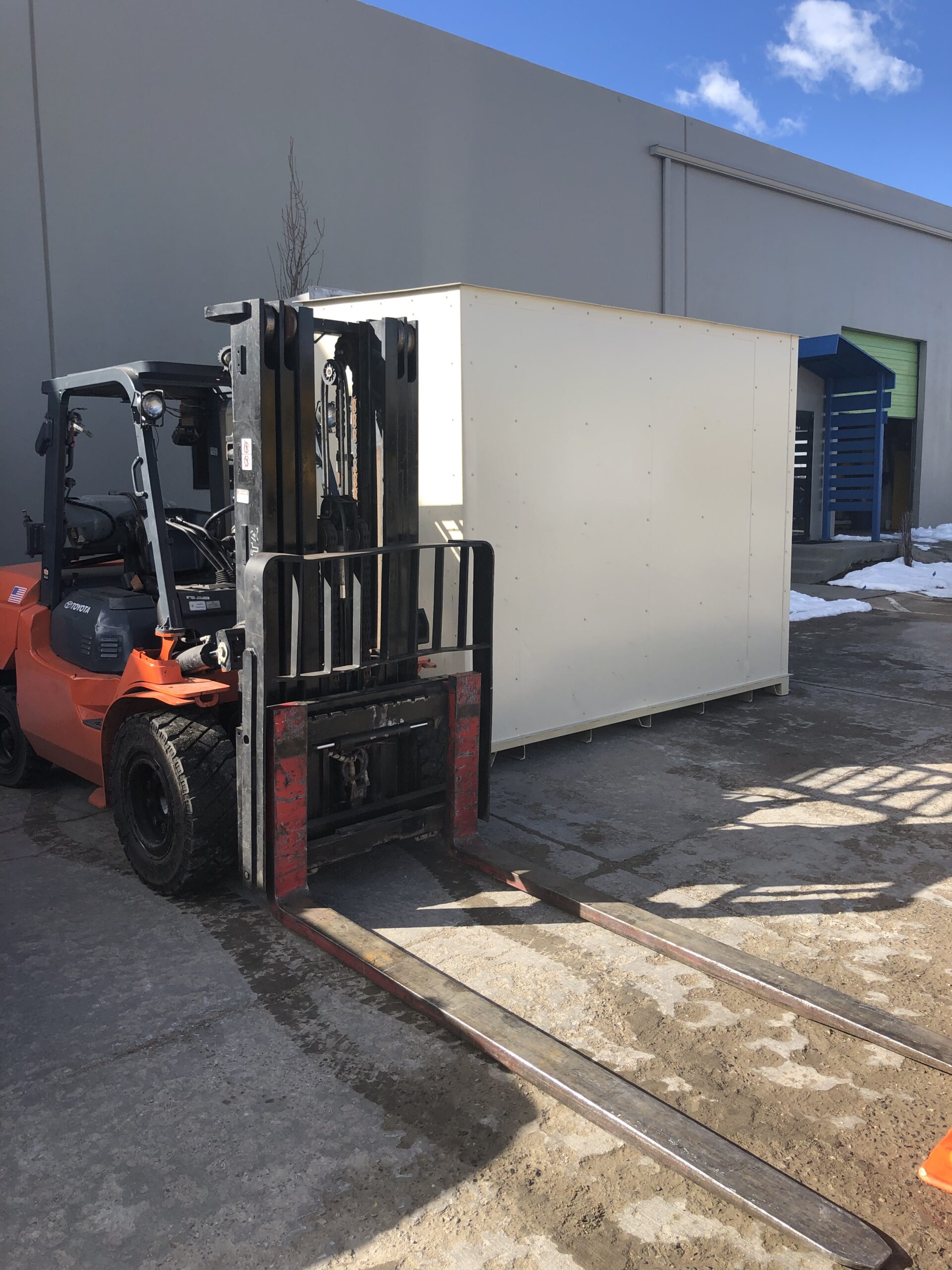 Conclusion
As industrial cannabis and medicinal cannabis applications expand into new parts of the United States, the demand for flammable liquid storage and proper IBC tote storage will become essential to maintaining safe manufacturing processes for further innovation.
Our work with White Buffalo Hemp Company not only positioned the industrial cannabis company to streamline and optimize its production strategy but also served as a foundation for expanding into the cannabis industry in the future.
Why Work with Us?
It's simple. At U.S. Chemical Storage, we specialize in the specialization. Our team often works with emerging industries—such as cannabis extraction—to respond to their need for code compliance. Following federal, state, and local regulations as legislation changes and as growth occurs can save your business time and, more importantly, money.
Let us help you work through the requirements to keep your employees and facilities safe and compliant with federal, state, and local safety codes. Get in touch with a technical sales engineer today and learn how U.S. Chemical Storage can help you innovate your industry.