Top Producer of Emergency Vehicles
As the largest–selling brand of ambulances in the United States, this emergency vehicle manufacturer has been in business since 1990 and employs more than 500 people. At American Emergency Vehicle (AEV), they create remounts and new vehicles for emergency services all over the world for the specialized automotive industry.
In the past, AEV has built personal ambulances for royalty, vehicles for the Secret Service, response vehicles for various State Bureaus of Investigation, and more. Their customization process can take a bare chassis and build any vehicle around it to meet their customer's needs.
With great success in the specialty automotive industry, comes the growth of hazmat storage needs.
Addressing Hazardous Waste Storage Needs
As with many companies, expanded growth means more waste. AEV was not an exception, as the company experienced rapid growth, it needed additional storage to keep hazardous waste separate from new materials.
"We needed something just for us," Matt Lambert, Chief Maintenance Technician at AEV, said.
As a previous U.S. Chemical Storage customer, he knew he wanted to check in with our team to see if we could provide an expanded solution. He chose to work with Jake Klein, the same engineer he worked with during American Emergency Vehicle's previous purchase.
"Jake was really helpful," Lambert said. "We just asked him what we needed, and he was able to walk us through it."
The U.S. Chemical Storage Approach
For AEV, we knew if together we could answer five simple questions our team would be able to create the right solution for their needs.
What is Being Stored?

In this case, waste paint along with dirty paint thinner would need to be safely stored until it could be filtered.
Where Will the Building Be Located?

AEV needed to place the new building within 10 feet of a new production building.
How Much Waste is Being Stored?

Waste storage would depend on AEVs production at the time.
What Are the Spill Containment Volume Needs?

AEV required a sump capacity required for approximately 1,111 gallons.
What Extras are Needed?

In addition to a fire rating, AEV needed individual grounding bars for each drum, climate control options, a chemical fire suppression option, and easy entry options.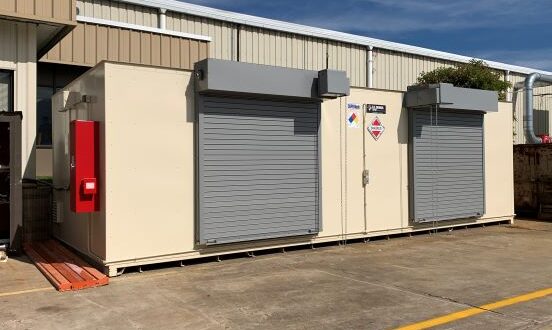 A Custom Containment Solution
With the needs well identified, our engineer landed on a custom SuperLoc® 4-hour fire-rated storage building for AEV. This building was designed with 3-hour fire-rated roll-up doors, vent dampers, and was designed to hold 75 drums if fully packed. The roll-up doors allow easy access with a drum-adapted forklift.
In addition to the SuperLoc® fire rating, AEV required individual grounding bars for their drum storage, a C1D1 Heater for the cold winters in their mountain location, C1D2 LED lights, and a dry chemical fire suppression system.
Work with Us
Let us help you work through the requirements to keep your employees and facilities safe and compliant with federal, state, and local safety codes.
Get in touch
with a technical sales engineer today and learn how U.S. Chemical Storage can help you innovate your industry.