In the last five years, cannabis and many of its derivatives have grown in popularity. Extracts like cannabidiol (CBD) and tetrahydrocannabinol (THC) have transformed both the medicinal and recreational cannabis industry. Previously, your options for cannabis extraction were limited to mostly by hand methods, but today, technology has expedited the process and made it more efficient with the aid of high-pressure compression and other extraction machinery.
Currently, cannabis extractors are in high demand and the industry is expected to grow as more states legalize THC and as more uses are found for CBD. With a growing industry, you can expect increased regulation.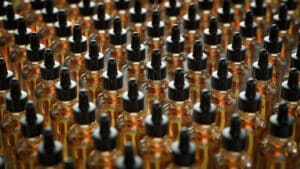 Lagging Regulations
While cannabis has been around since before the common era, it's facing renewed interest (and scrutiny) in the marketplace. In many cases, like the loophole legalization of Delta-8 THC (1), the federal sales regulations have yet to catch up to the industry. It's only in 2021 that they have begun to discuss in-depth the standards surrounding cannabis growing, processing, extraction, and testing.
NFPA Developing New Standards
The NFPA (National Fire Protection Association) recently sought input on the development of new cannabis fire protection standards. It will expand upon the NFPA1, Fire Code, which addresses fire protection concerns within growing and processing facilities. While NFPA1 only addressed concerns, it didn't set in stone specific regulation. This new standard will address the protection of those facilities and set education, inspecting, testing, and maintenance requirements.
However, while the government works to close loopholes in the regulation of production and sales, extraction of the product is already semi-well regulated thanks to the well-established rules regarding hazardous flammable chemicals such as; butane, hexane, and ethanol; and hazardous gases, such as carbon dioxide.
These rules surrounding safe and compliant storage practices are vital to avoiding costly fines, needless production delays, and serious accidents.
U.S. Chemical Storage can provide fully prefabricated compliant buildings for a variety of safe storage and production practices in your extraction business.
Established Chemical Storage Guidelines
As mentioned, there are many chemical storage requirements that are already set in stone. The requirements for flammable liquid and carbon dioxide (both utilized in cannabis extraction methods) are as follows.
Flammable Liquid Storage in Extraction
Extraction Magazine lays out the NFPA National Electric Code requirements well in a December 2020 article. According to the magazine, facilities that house explosive vapors or combustible material have to be equipped with explosion prevention.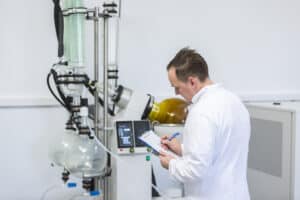 "Extraction facilities must be equipped with specific electrical components and wiring for safety reasons. These regulations are classified as Class 1 Division 1 environments and Class 1 Division 2 environments. One of the main differences is that flammable vapors exist under normal conditions in C1D1 (e.g., extraction), but should only exist under abnormal conditions in C1D2 (e.g., post-processing)." (2)
Classifications & Environment Distinctions
Each classification and division has its own requirements when it comes to what level of protection you need. In extraction and production areas, one way of mitigating the hazards is by using intrinsically safe products and designs where regulators define hazardous areas in classifications, divisions, and zones. The division depends on the probability that they will contain flammable materials.
Intrinsic Safety
There is a difference between intrinsically safe and explosion-proof. The basic principle of intrinsic safety is to lower the electrical and thermal energy of devices to the point where it is impossible for them to generate a spark. The process uses Zener diodes to limit voltage, resistors to limit current, and fuses to shut off the electrical supply. Ultimately, Intrinsically safe products will not spark and start a fire.
Explosion-Proof
Explosion-proof equipment does not limit the power output. Instead, it contains an explosion internally. So the product could spark, but the unit is built in such a way to contain it. Heavy-duty enclosures prevent the spread of ignition to flammable materials nearby.(3)
Carbon Dioxide Gas Storage
For extractors that utilize the Carbon Dioxide (Co2) method of extraction, there are unique concerns. While the gas is non-flammable, it is an odorless and colorless gas that can be deadly even when normal oxygen levels are present.
Cannabis extraction buildings that store Carbon Dioxide tanks can feature sensors and alarms if safe levels are exceeded due to a leak. They should also feature forced or passive ventilation systems depending on the amount of gas that will be stored inside. Since the gas is stored in compressed tanks, it is important to keep it cool. It may explode if heated.(4)
Our Solution
Our U.S. Chemical Storage team manufactures laboratory and chemical storage buildings that can be fully wired and installed with third-party tested intrinsically safe or explosion-proof products for lighting, climate control, ventilation, and more. In addition, each building is equipped with a secondary containment sump to contain spills if any occur and sensors can also be installed to alert you when a spill happens.
Fire suppression systems are crucial to the safety of flammable chemical storage, and US Chemical can use dry-chem or sprinkler systems depending on your MSDS recommendations. All of these features arrived fully installed ready to hook up to your utilities an easy turnkey delivery.


Types of Chemical Storage Buildings for the Cannabis Industry
As you can see, meeting established recommendations is crucial to safety and success when dealing with cannabis production processes.
Bulk Chemical Storage Buildings
Storage of the bulk hazmat chemicals used in the extraction process. These can store chemicals on shelves or racks, in drums or in totes, making them endlessly scaleable.
Extraction Rooms
Occupancy extraction rooms that can be fully climate controlled and outfitted with sinks and ventilation hoods can be utilized as full chemistry labs. This allows your production to easily relocate from one warehouse to another as growth occurs. Everything else can be warehouse space.
Drop Over Storage Buildings
Drop over buildings feature no sump or floor, but are bolted in place around machinery and utilities inside or outside of existing buildings to achieve compliance easily without the expense of site built construction or costly relocation.
Grow with a Partner You Can Trust
Using an experienced company allows you to focus on your business, and lets you rest easy knowing your business is compliant and well prepared for whatever the future of this exciting industry may bring.
To get started determining your business needs, begin with the Building Configurator Tool and explore some of the many options available. You're able to enter the specifics about any chemicals, gasses, or equipment you need to store and any other relevant MSDS data. Once that's inputted, our technical sales team can then get started on a quote or continued dialogue.
Source: What Is Delta-8-THC?, Maintaining Compliance As A Cannabis Extractor , Why is Intrinsic Safety Important to Chemical Storage? , Potential Carbon Dioxide (CO2) Asphyxiation Hazard When Filling Stationary Low Pressure CO2 Supply Systems