Insurance in the Chemical Industry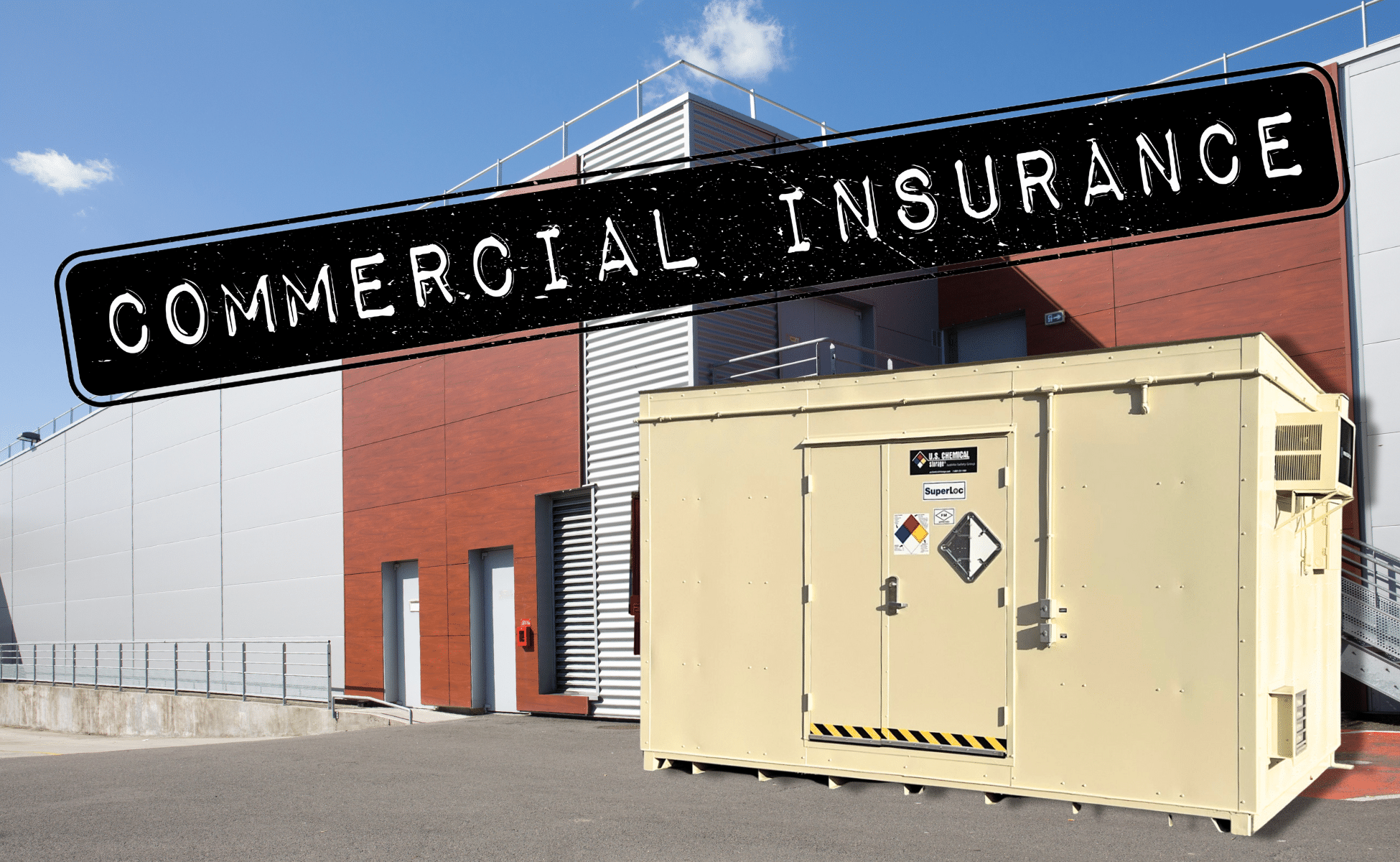 Ensuring Protection and Mitigating Risks
A 2021 Study from The Hartford found that around
75% of commercial buildings
are underinsured. What's more, those who were underinsured were underinsured by a whopping 40%. A thorough comprehension of common and special hazards is important for effective insurance underwriting in the chemical industry. It helps to be proactive in those risks rather than reactive.
When searching for commercial insurance, your underwriter will use COPE to assess your risk details.
C.O.P.E. Any insurance underwriter starts a risk assessment of a commercial property with COPE. It stands for construction, occupancy, protection, and exposure.
● Construction – What are the materials used to construct the building? This involves understanding the materials used, their proportion within the structure, and potential fire-induced damage to the building. These factors determine fire risk for property insurance underwriting.
Generally, the lower the number applied, the worse the classification.
● Occupancy – This refers to the actual building use. This also looks at how the business manages the "hazards of occupancy." Any business that utilizes large amounts of chemicals will definitely be assigned an occupancy score. The strength of the hazard AND the safety precautions taken factor into this rating.
● Protection – What is protecting the building from common perils in the area? Fire is the most common primary risk in this case, so having fire suppression systems, detectors, alarms, and other notifications at the first sign of danger is important.
● Exposure – What are the risks the property faces? Are they within? Are they without? Are they environmental? Fire, earthquakes, flooding, wind, and spills, could all be considered.
An insurance underwriter will be exploring your risks and exposures in detail. They may have suggestions to help achieve adequate coverage or lower your premiums.
Their interest is to avoid as many risks as possible to prevent any large payout due to an accident that damages people or property. Your interests in safety are much broader.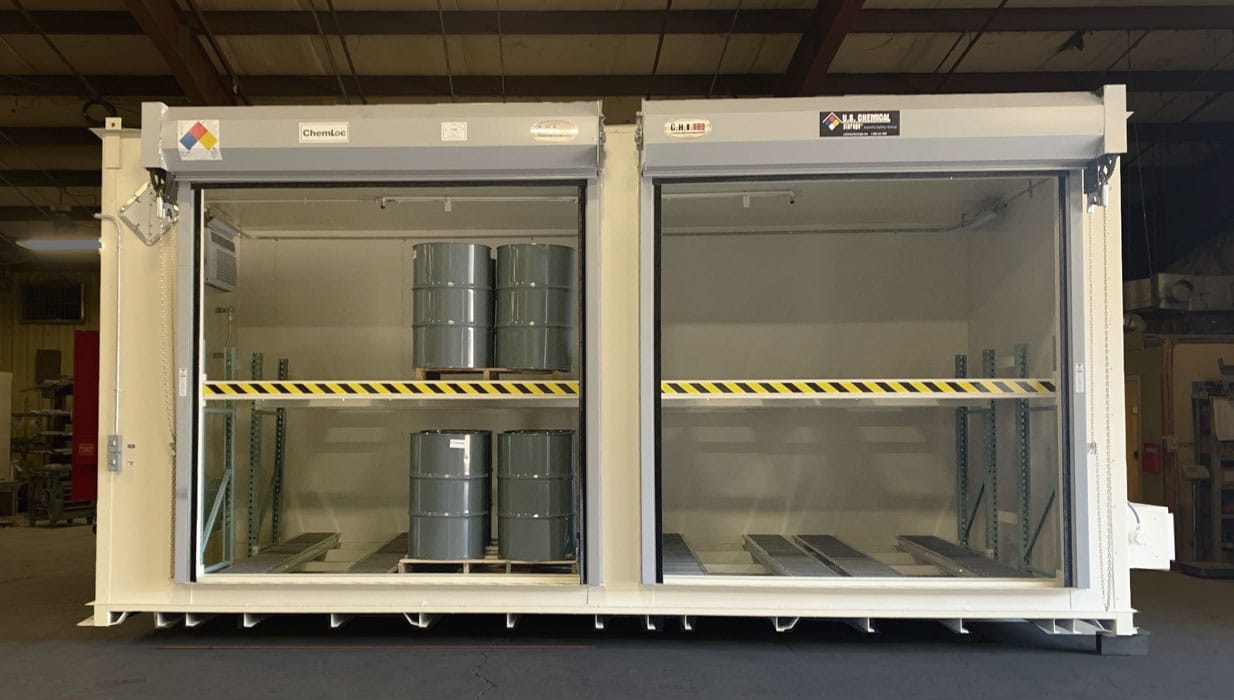 Understanding Hazards: Common and Special
The "exposure" factor of COPE can encompass common or special hazards. Common hazards pertain to issues like electrical system deficiencies, heating system malfunctions, and inadequate housekeeping.
Meanwhile, special hazards involve more complex risks such as flammable liquids, spray-painting operations, commercial cooking, welding, and cutting.
Depending on the type of hazards your company presents, insurance providers may require or suggest liability coverage.
Chemical Companies: Liability Coverage
Chemical businesses often face unique risks that standard insurance might not cover. General liability insurance is crucial for chemical manufacturers due to potential hazards.
Products-completed operations insurance safeguards against claims arising from chemicals, leaks, property damage, and bodily injury resulting from operations. Pollution liability and facility pollution legal liability should be considered if applicable.
Liability Coverages that May Apply
● Automobile Pollution Liability if a crash/spill occurs
● Chemical Umbrella Liability
● Property – Including pollutant clean-up
● Pollution Legal Liability
U.S. Chemical Storage and C.O.P.E.
C: Assessing Construction & Building Adjacencies
Having a 2 or 4-hour fire-rated bi-directional (roof, floor, walls) steel structure with fire-mitigating construction to house your chemical risks is an excellent strategy for insurance coverage. Prefabricated buildings can even be placed INSIDE existing structures in many cases so efficiencies are maintained.
Information on neighboring buildings is important, too, encompassing exposed walls, hazards, construction, and proximity to danger. Buildings situated near high-hazard operations or close to flammable liquids pose significant risks.
Placing an outdoor hazmat storage building away from other essential properties may be an ideal strategy that assists in your insurance coverage.
O: Assessing Occupancy
Assigning the amount of chemicals being stored is a simple but pivotal step in determining fire risk for property insurance underwriting. This involves understanding the materials used, their proportion within the structure, and the potential fire-induced damage to the building.
Being able to organize hazmat efficiently within a fire-rated chemical storage building can help mitigate the risks and allow for easier inventories and material handling.
P: Assessing Fire Protection Systems
Private fire protection systems are vital safeguards for properties, incorporating extinguishers, alarms, and automatic sprinkler or dry-chem systems. These systems must be reliable and suitable for the chemical being stored.
Your chemical Safety Data Sheet (SDS) will point that out. U.S. Chemical Storage does the right-sizing of  the fire suppression and sprinkler plan to suit the risks, with the addition of alarms, sirens, notifications, and strobes. It's an activity we do every day, and we can easily do it for you.
E: Assessing Exposures and Natural Risks
Extra exposures like local wildfire risks, potential hurricane dangers, and proximity to flood or earthquake-prone zones also factor into risk assessment. Hurricane coverage is a misnomer. There is wind coverage, and then there is a separate flood policy. Consider both.
Natural risks are getting more common. The more aware of your risks you are, the higher your chance of getting a building that protects against them.
Using a prefabricated building that can be specifically rated for wind, snow, or seismic can allow your facility to expand in accordance with modern code, even if the rest of your facility is grandfathered.
However, other external risks could be high local crime rates, an unusually high likelihood of civil unrest, area pollution, or risks from nearby businesses or transportation. A chemical storage building with high-security features should be considered in some cases.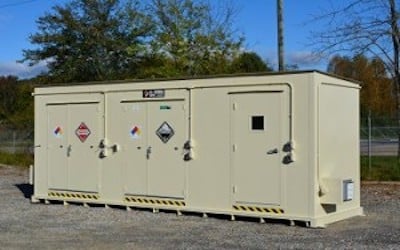 U.S. Chemical Storage Checks off Many Insurance Boxes
Regardless of when your facility was built, a prefabricated chemical storage building can help keep any hazmat you work with or produce safe and secure.
Insurance specialists and environmental consultants work with us routinely to build structures for their clients. With nearly any specific details or features, we manufacture and design chemical storage buildings that can serve inside or outside facilities.
Some of the features that can improve your facility's insurance status include:
Fire-rated bi-directional construction of 2 or 4 hours (depending on the model)
Secondary containment sump
Thermal Link Dry chem fire suppression
Automatic sprinkler systems
Smoke/Thermal/Radiant Heat Detecters
Gas Detectors (for a variety of gasses)
Sirens, alarms, strobes – with automated notifications
Exit and egress features for occupancy buildings
Air and cooling units that maintain a specific temp
Heating units
Wind rating construction for hurricane-prone areas
Seismic construction anchors for earthquake-prone areas
Explosion-proof electrical features to prevent sparking
Safe and secure shelving and flooring to store and move products
and many more!
Insurance in the chemical industry requires a deep understanding of hazards, comprehensive coverage, and tailored solutions. By assessing risks, recommending safety measures, and providing adequate coverage, insurers play a crucial role in safeguarding businesses and mitigating potential losses.
Having facilities with the safety features underwriters recommend can save you money on premiums now and save environmental and safety problems in the future.
Contact us for your chemical storage insurance needs.