US Chemical Storage built this custom large pallet storage building to allow this customer to expand storage capabilities of their flammable flavorings that are used in the manufacturing of food.
Industry:
Food Processing
Customer Needs/Requirements:
This customer stores food flavorings that are temperature sensitive.  Due to the growth of their business, they approached U.S. Chemical Storage to build a building to store additional pallets. This building had to be installed to meet insurance and local code requirements.
U.S. Chemical's Solution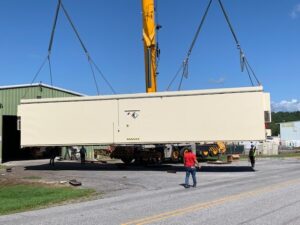 They contacted U.S. Chemical Storage to design a new building that can hold up to 66 pallet spaces of flammable flavorings.  They also need the building to have cooling installed to keep interior temperature below 65 degrees F when the doors are closed.  A single point temperature controller with high/low point temperature alarms was installed for ease of use and operation of the cooling units. We were able to complete the building on time.  We worked with the customer to coordinate the installation of the building within their factory, and we installed the doors on the building after it was in place.  This allowed the building to be moved into place without concern for damage to the motorized doors.  We typically ship buildings with doors installed unless a customer's situation requires otherwise.
Building Type:
4 Hour Fire Rated wall construction and 2 Hour Fire Rated roof construction for indoor location
Building Specs:
Flammable flavoring storage building
66 pallet capacity
Spill containment included
Motorized overhead roll-up doors include
Single side access with pallet/tote rollers built into racking to allow loading/unloading from the front wall
Dry chemical fire suppression included
A suppression release device was included ensuring doors close prior to activation of the suppression
Crane lifting points included at roofline for ease of offloading and installation
The customer is a food manufacturer/processor
Looking for a solution like this?