Case Study: Pharma Laboratory 90-Day Storage, Part 2
Application: 90-Day Pharmaceutical Hazmat Storage
The procedure for safely containing and eventually disposing of the company's hazardous waste materials continues with the need for a climate controlled 90-day chemical storage building. The 90-day storage building is designed to store chemical for up to 90 days, prior to disposal. Within 90 days, private contractors transfer the hazmat waste for proper disposal. The particular product being stored comes from the transfer station where materials are gathered from manufacturing and lab operations.
"From design through installation, US Chemical Storage has been great to work with. We have purchased four buildings in the last two years and are very happy with the product. The sales and design staff have been able to listen to our needs and work with us to achieve a cost effective solution to our storage needs. They have met all promised delivery dates and delivered a good quality product. In addition, once the buildings were on site, US Chemical Storage did not consider their job complete; they have been responsive and helpful in working through installation and startup issues. I feel like they were committed to making our project a success – unusual in a vendor!"

— Anonymous
Custom Compartmental Design
USCS designed a customized 90-day storage building by meeting all regulatory requirements in order to create a safe and fully compliant storage environment.
The 90-day storage building was divided into two separate chemical storage rooms, fire-rated and non-fire rated, in order to compliantly store two incompatible chemical substances. The storage building was 55 feet long and 10 feet deep; designed for storing 40, four by four sized pallets of material storage, with the bottom racks of the building being able to store additional pallets or overspill pallets. This building featured push-back racking for efficient and effective drum storage operations.
Flammable Storage Compartment
The left side of this building was constructed with two separate fire-rated rooms for storing two different categories of compatible flammable materials, separated with a wire partition wall. This side of the building featured a sump divider, which was implemented to eliminate any cross contamination in the event of a chemical spill. Explosion proof mechanical ventilation and cooling systems were installed with 5-tons of cooling power, because the geographical area that this building was being placed at has a record high of 105 degrees. This ensured the chemical drums would not swell during the hot summer months. On the back of the fire-rated section, five explosion relief panels were installed in order to relieve pressure, if an explosion were to occur.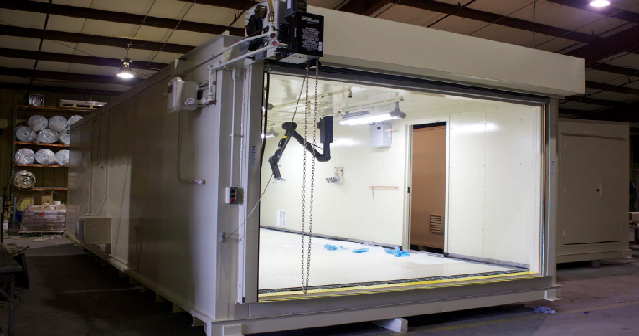 Non-Flammable Storage Compartment
We customized the right hand side of the building to be set up as a non-fire rated chemical storage building; specifically designed to contain two different types of corrosives, including acids and bases. This non-fire rated compartment was divided with a wire partition wall and sump divider so acids and bases could not react, in the event of a spill. The same side of the building included a high performance heating and cooling package unit as well as a non-explosion proof mechanical ventilation; to ensure that chemicals being stored remain stable. Additional accessories include liquid level detectors in both sump areas and a green strobe light to notify officials of temperature changes in the locker. This side of the 90-day storage building did not utilize explosion relief panels because the nature of the corrosive chemicals that were being stored. A 2 hour bi-directional fire wall separated the flammables from the corrosive acids and bases.
Safety and Efficiency
One of the key features of this building to make it easier for the operators. All three large roll-up doors are motorized and operated with push button functions. Both sides of the building, flammable and corrosive, utilize push-back racking systems so our client can store pallets two-deep on the bottom with pallets or spill pallets and two-deep on the top with pallets; making it easier for the operators to load and unload hazardous drums. Once this building is completely filled up with chemical drums from the transfer station, the 90 day drum storage will wait to be removed by private contractors for proper disposal methods. This 90-day storage building featured a DOT flip chart placard and an NFPA 704 sign, external to the building, to warn bystanders from what type of chemicals are being stored inside.